Falls Prevention Exercise Classes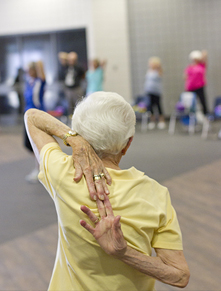 Led by certified senior fitness instructors, these free classes will keep you staying well and living independently. Educational components are also part of this program and delivered while you exercise. Exercise classes are offered to participants with a variety of physical abilities.
Funded by the Local Health Integration Network. No membership required.
NOTE: Class locations, time and days are subject to change. Please call to confirm. Please arrive with water and running shoes. You will be required to complete a registration form upon arrival.
Class descriptions
Level 1 - Retirement Residences Falls Prevention Class
Classes are offered in retirement homes (although they may be open to community members). The class is designed to support improvement for those with limited mobility. The classes are primarily seated with standing components as well.
Level 2 - Group Fitness Gentle
This program is a gentler version of the Group Fitness class level three. It's for individuals with limited mobility. As you get stronger withexercise, you will be better able to perform daily activities. Achieve your goal of walking for short durations by completing balance, strength and cardio exercises while seated or standing. Participants with higher levels of mobility are welcome.
Level 3 - Group Fitness
This group fitness class includes balance, strength and cardio exercises. The class will strengthen your heart and legs, as well as improve your range of motion. The design of this program is for moderate to vigorous levels of intensity. The program uses equipment such as weights and resistant tubing to better your health.
Level 3 - Men's Strength Training
This group exercise class focuses on building muscle endurance through cardiovascular, endurance and muscle strengthening exercises with the guys (Friendship Centre location only).
Home Support Exercise Program (HSEP)
HSEP trained volunteers meet with you, in your home, and guide you through a series of specifically-designed exercises to keep you on your feet and living in your own home. Call the Wellness Coordinator at 519-284-3272 to arrange for this one-on-one program.
Schedule
Monday
| | | |
| --- | --- | --- |
| Time | Location | Level |
| 9:00 - 10:00 am | Friendship Centre | 3 |
| 9:30 - 10:30 am | Thames Valley Community Room | 3 |
| 10:00 - 11:00 am | Kirkton Community Centre | 3 |
| 10:15 - 11:15 am | Friendship Centre | 2 |
| 11:30 am - 12:30 pm | Friendship Centre | 3 (Men's Strength Training) |
| 1:30 - 2:30 pm | Stone Ridge Apartments | 3 |
| 1:30 - 2:30 pm | St. Marys YMCA | 2 |
Tuesday
| | | |
| --- | --- | --- |
| Time | Location | Level |
| 10:00 - 11:00 am | Wildwood Care Centre | 1 |
| 10:15 - 11:15 am | Friendship Centre | 2 |
| 11:00 am - 12:00 pm | Rotary Apartments Community Room | 2 |
Wednesday
| | | |
| --- | --- | --- |
| Time | Location | Level |
| 9:00 - 10:00 am | Friendship Centre | 3 (Cardio and core) |
| 10:00 - 11:00 am | Kirkton Community Centre | 3 |
| 10:45 - 11:45 am | Stone Ridge Apartments | 2 |
| 11:30 am - 12:30 pm | Friendship Centre | 3 (Men's strength training) |
| 1:30 - 2:30 pm | Friendship Centre | 2 |
Thursday
| | | |
| --- | --- | --- |
| Time | Location | Level |
| 9:00 - 10:00 am | Friendship Centre | 3 (Fusion) |
| 9:30 - 10:30 am | Thames Valley Community Room | 3 |
| 10:00 - 11:00 am | Kingsway Lodge | 1 |
| 10:15 - 11:15 am | Friendship Centre | 2 |
Friday
| | | |
| --- | --- | --- |
| Time | Location | Level |
| 9:00 - 10:00 am | Friendship Centre | 3 |
| 10:00 - 11:00 am | Kingsway Lodge and Wildwood Care Centre | 1 |
| 10:15 - 11:15 am | Friendship Centre | 2 |
| 11:30 am - 12:30 pm | Friendship Centre | 3 (Men's Strength Training) |
| 1:30 - 2:30 pm | St. Marys YMCA | 2 |