Thanks for making 2019 such a great year!View our Annual Report for accomplishments and highlights from the last year.
Place your holds now! Popular Fiction lists are updated on a seasonal basis and include popular fiction titles that are brand new and on-order. Place your holds early to ensure you get the books soon after they arrive in the Library.
Rec & Leisure Guide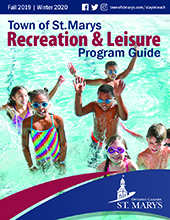 The Town of St. Marys Recreation & Leisure Program Guide is here! Discover how to stay active and entertained this season. View the Guide online or pick-up a copy at most municipal facilities.
St. Marys Public Library
15 Church St. N., P.O. Box 700, St. Marys, ON, N4X 1B4 | Tel: 519-284-3346| Email the Library