Do you host a home book club? You can now order from over 130 book club sets directly from the Library using KitKeeper. Browse by title and date availability, click reserve this kit and pick it up at the Library when you're notified it's ready.
Place your holds now! Popular Fiction lists are updated on a seasonal basis and include popular fiction titles that are brand new and on-order. Place your holds early to ensure you get the books soon after they arrive in the Library.
Rec & Leisure Guide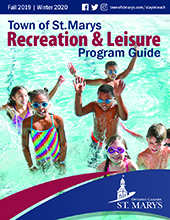 The Town of St. Marys Recreation & Leisure Program Guide is here! Discover how to stay active and entertained this season. View the Guide online or pick-up a copy at most municipal facilities.
St. Marys Public Library
15 Church St. N., P.O. Box 700, St. Marys, ON, N4X 1B4 | Tel: 519-284-3346| Email the Library
Open Hours: Monday-Thursday: 10:30am-8:00pm, Friday: 10:30am-5:00pm, Saturday: 10:00am-4:00pm