Each year, the Library acquires parks passes to Ontario Provincial Parks and the Upper Thames Conservation Authority parks (Wildwood, Puttock, Fanshawe). These passes are available for our patrons to borrow for free with their library card.
Place your holds now! Popular Fiction lists are updated on a seasonal basis and include popular fiction titles that are brand new and on-order. Place your holds early to ensure you get the books soon after they arrive in the Library.
Rec & Leisure Guide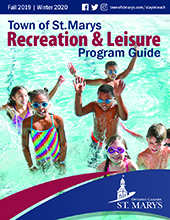 The Town of St. Marys Recreation & Leisure Program Guide is here! Discover how to stay active and entertained this season. View the Guide online or pick-up a copy at most municipal facilities.
St. Marys Public Library
15 Church St. N., P.O. Box 700, St. Marys, ON, N4X 1B4 | Tel: 519-284-3346| Email the Library
Open Hours: Monday-Thursday: 10:30am-8:00pm, Friday: 10:30am-5:00pm, Saturday: 10:00am-4:00pm