Grant Programs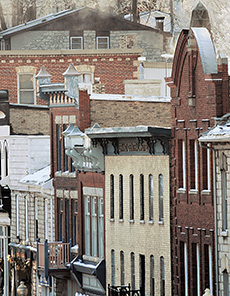 Each year, the Town of St. Marys provides financial assistance to local non-profit groups, businesses and property owners through a variety of grant programs. These programs contribute to community improvement by providing funding for recreation and leisure initiatives and helping to restore and maintain the heritage of our Town.
Recreation & Culture Grants
Community Grant Program
The Community Grant Program provides funding for programs, projects, activities and events that enrich the community and advance Council's strategic goals. Council makes all funding decisions based on its approved budget, as well as local needs and priorities.
Completed Community Grant applications must be submitted to the Town by November 30 of the previous year.
Read the Community Grant Policy for information about eligibility and the application process.
Complete the Community Grant Application Form to apply for the program.
Information required to complete the application
Before filling out the application, please review the following information that is required to complete the application:
Total Project/ Program/ Activity Budget
Percentage of total budget requested (cash grant not to exceed 25%)
A detailed budget supporting your request:
Description of the program
How will the program enhance and enrich St. Marys
Clearly indicate all costs of your proposed project/program/activity.
Clearly indicate what costs you plan to use Town Community Grant funds to pay for. Ensure that all costs you plan to use grant funds for are eligible costs as defined within the Community Grant Policy.
Clearly indicate what in-kind services you are requesting to be provided by the Town.
Clearly show all sources of funding and revenue for your project/program/activity.
You must be able to demonstrate that other sources of funding have been pursued. If other grants/donations have not been confirmed, include a note on outstanding fundraising, sponsorship and donation requests to other organizations and grant programs.
If no other funding sources have been pursued, explain why.
If your organization received a grant last year, include a summary of how Community Grant funds were spent.
If your organization did not receive a grant last year, you must submit the most recent financial statement of the organization, or other documentation, to demonstrate your non-profit or charitable status.
Detailed budget supporting your request
Summary of where your Community Grant funds were spent
Most recent financial statement
2023 Community Grant recipients
Canada Day parade
Canadian Baseball Hall of Fame
Giving Tuesday
GOALS breakfast program
Kinsmen Club of St. Marys
KW & SP Humane Society
Piecemaker Quilt Show
Rotary Club of St. Marys
St. Marys Community Dinners
St. Marys Curling Club
St. Marys DCVI
St. Marys Farmers' Market
St. Marys Legion
St. Marys Lincolns
St. Marys Memorial Hospital Foundation
St. Marys Minor Basketball
St. Marys Minor Soccer
St. Marys Ringette Association
St. Marys Station Gallery
St. Michael Catholic Secondary School
Thames River Clean Up
To St. Marys With Love
United-Way Perth Huron
Contact
Denise Feeney, Finance Manager/Deputy Treasurer
519-284-2340, ext. 238
Email the Finance Manager/Deputy Treasurer
Access to Recreation Grant
The Access to Recreation Grant provides residents with financial support so they can participate in recreation, leisure, arts and culture programs.
For more information, visit the Access to Recreation Grant webpage.
Building & Property Grants
Community Improvement Plan
For more information, visit the Community Improvement Plan webpage.
Designated Heritage Property Grant Program
The St. Marys Designated Heritage Property Grant Program is available to owners of heritage designated properties in the Central Commercial District. The program is designed to assist property owners in the conservation and preservation of the Town's built heritage resources.
Eligible properties must be designated under the terms of the Ontario Heritage Act as an individual property or be located within the Heritage Conservation District. Priority is given to projects that conserve and/or restore the elements of the property that have been cited as attributes of cultural heritage value or interest in the statements of designation.
Applications for the program are accepted on a first come, first served basis each year.
Note: Projects that are eligible for the Designated Heritage Property Grant Program may require a Heritage Permit and/or a Building Permit.
Contact
Amy Cubberley, Cultural Services Manager
519-284-2340, ext. 405
Email the Cultural Services Manager

Fully accessible versions of all above documents are available in print upon request.