St. Marys Money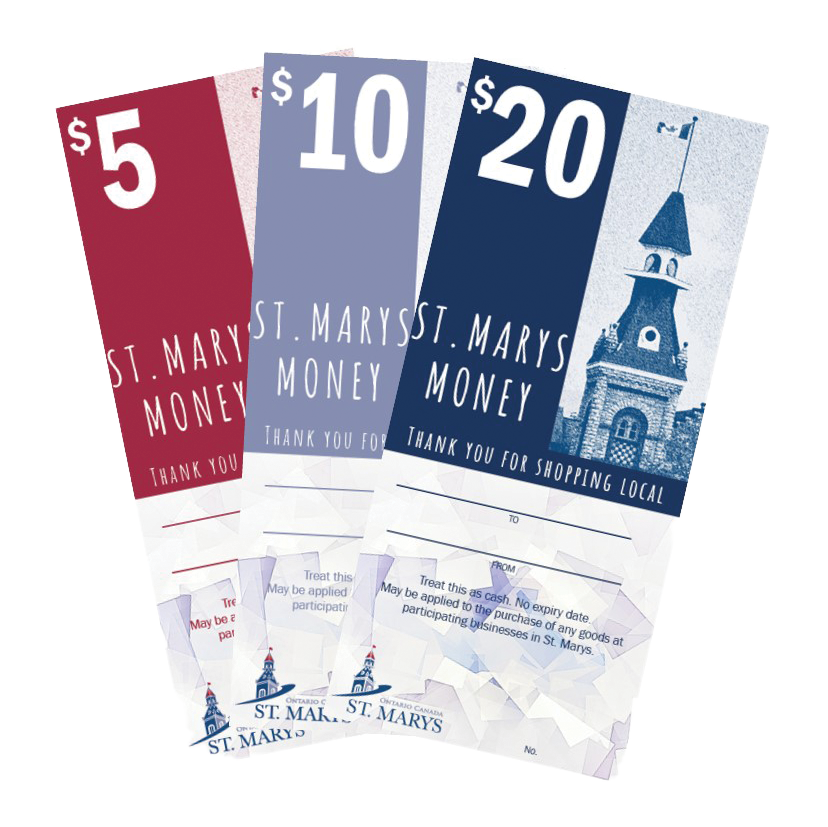 What's in your wallet? It should be St. Marys Money!
Whether it's for the necessities of life, intended as a gift, or just a way to treat yourself, St. Marys Money is a feel-good way to spend money and support our community.
"St. Marys Money puts local spending power into shoppers' wallets and business tills," says Kelly Deeks-Johnson, Tourism and Economic Development manager for the Town. "It's a fun way to shop and to give local while supporting area merchants hit hard by the pandemic."
How Does St. Marys Money Work?
The process is simple:
Simply pay for your purchase with St. Marys Money
Receive change back as cash
The business will redeem the St. Marys Money for its full face value through the Town.
How Can I Get St. Marys Money?
St. Marys Money is available in denominations of $5, $10 and $20. Request yours today via this simple form for pickup at Town Hall (175 Queen Street East) or the Municipal Operations Centre (408 James Street South) during regular business hours (8:30 a.m. to 4:30 p.m.). Please treat your St. Marys Money as cash; if lost or stolen, it cannot be replaced.
St. Marys Money can be used at these 40 (and counting) area businesses -- just look for the red decal on business doors! If you'd like to add your business to the list, please complete this form.
Due to the community-building nature of this initiative, we respectfully ask those looking to purchase St. Marys Money as keepsakes to refrain from doing so.
Redeem St. Marys Money at any of these local businesses!
168 SPA
AD Permanent Makeup & Esthetics
Armstrong Motors Sales & Service
Betty's Bookshelf
Bungalow
Canadian Baseball Hall of Fame and Museum
Cloud 9 Kids
Dunny's Source For Sports
St. Marys Museum Gift Shop
Joe's Diner
Hearn's Ice Cream
Hubbard Pharmacy
Little Falls Crafters Market
Lyric Flowers
McPhail's Pet & Animal Needs
Nail Effects
O'Gradys Clothing & Accessories
Roancroft
Sam's Home Hardware
Sensations Salon
Snapping Turtle Coffee Roasters
St. Marys Family Chiropractic
St. Marys Farmers' Market
St. Marys Landscaping
St. Marys Home Building Centre
St. Marys Independent Newspaper
St. Marys Optometry
St. Marys Physiotherapy and Rehabilitation Clinic
Stone Home Creatives
Stonetown Physiotherapy
Stonetown Travel
Sun Rayz
Sunset Diner
The Chocolate Factory St. Marys
The Flower Shop and More
The Wine Lab
Tim Hortons
Towne and Country Cheese Shoppe
Troyer's Spices
Zenfire Pottery