Road Closures and Construction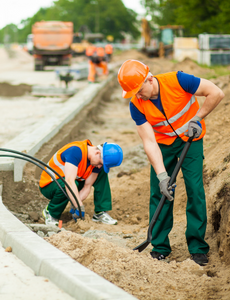 The following is a list of upcoming and ongoing construction projects and road closures.
To apply for a road closure or right of way occupancy request, please see Applications, Licenses and Permits.
To receive regular updates on upcoming and ongoing construction projects, click "Receive email updates" at the bottom of this page.
Upcoming and Ongoing Construction Projects
Wellington Street Reconstruction - Ongoing
About the project
Procurement: Tendered

Contractor: Lavis Contracting

Cost: $2.375 million

Project area:
Wellington St. N - Wellington St. Bridge to Queen St. E
Wellington St. S - Queen St. E to 152 Wellington St. S
View a project area map.
Work schedule
Start date
March 2022
Project length
Approximately 18 weeks
Project objectives
Watermain replacement
Replace and upsize watermain between north of Queen St. to Wellington Bridge for creation of redundant large feed to the north
Replacement of legacy copper water services from street watermain into commercial building basements or residential property lines
Storm sewer replacement
Improve drainage with grading and new storm sewers/catch basins where necessary
Sanitary
Targeted sanitary repairs
Sidewalk curb and gutter replacements/improvements
Replacement of sidewalks, curbs and gutters
Change sidewalk grade so commercial business entrances meet accessibility requirements

Improve grading for steep driveways on east/south side of Wellington St.
Asphalt road replacement
Replace deteriorated asphalt roadway
Other utility improvements
Upgrade gas mains
Correct streetlight grounding issue
Add stamped concrete boulevard from Jones St. to bridge
Improve hydrant placement
Add parking to both sides of street (Elgin St. to bridge)
Project updates
Scheduling Changes
(Updated May 2, 2022)
We recently discovered an emergency sanitary issue in the east end of town and have re-allocated construction resources to the area. This has resulted in some changes to the schedule for the Wellington Street reconstruction project.
The work is now being broken into phases and with restoration planned at later dates. The section currently under construction will have all underground piping and road base reinstalled in the next three weeks. We are waiting on an exact schedule form our concrete and turf restoration sub-contractors.
There will be a period of time in May and June when little work will take place on Wellington Street as sanitary repairs are completed in the east end of town.
Updated Work Plan and Schedule
Phase 1 (South end to Foodland entrance)
Finish water and sanitary services (May 2 - 6)
Hydrant relocation (May 9 - 10)
Storm sewer installation (May 9 - 13)
Road base construction (May 16 - 20)
Concrete curb and sidewalk (TBD)
Asphalt paving (TBD)
Turf restoration (TBD)
Phase 2 (Foodland entrance to Queen St. E)
Asphalt and concrete removals (early July)
Storm sewer (early July)
Watermain and services (mid/late July)
Road base (late July/early August)
Concrete curb and sidewalk (TBD)
Asphalt (TBD)
Turf restoration (TBD)
Phase 3 (Queen St. E to Trout Creek)
Asphalt and concrete removals (mid August )
Watermain and services (late August/early September)
Road base (September)
Concrete curb and sidewalk (TBD)
Asphalt (TBD)
Egan Avenue Reconstruction - Ongoing
Project updates
The remaining top coat of asphalt will be installed in the future.
About the project
Procurement: Tendered

Contractor: COPE Construction & Contracting Inc.

Cost: $1.9 million

The Town has assessed the Egan Ave. reconstruction project against the current provincial legislation and determined that the project will proceed at this time.

The contractor has a policy for employees and subcontractors working during the pandemic and have enhanced measures in place following healthcare guidelines to reduce the risk of potential transmission of COVID-19 at the project site. Measures include but are not limited to:
Physical distancing
Personal protective equipment
Hand washing stations on site
The Town will be reviewing the project regularly with the contractor to ensure the safety measures are adhered to.
While interacting with workers, please maintain a 2m (6 ft.) distance.
Project components
The project will include:
Watermain replacement
Storm sewer replacement
Sanitary sewer extension
Sidewalk replacements and improvements
Curb and gutter installation
Asphalt road replacement
Peel Street and Egan Ave. intersection improvement
Elizabeth and Waterloo Street Reconstruction - Ongoing
Project Updates
Week of May 18, 2022
The contractor is working on correcting turf depressions from trench settlement as well as preparing the road for final topcoat paving.
Topsoil and seed will be placed on turf that has settled over the winter and requires leveling.
Sewer access structures will be raised to final asphalt elevation.
The hydrant at the end of Waterloo Street will be raised.
Curb stops and cleanouts will be lowered to grade.
The road will be swept and prepared for paving.

Paving could occur as early as Friday May 20, but is more likely to occur the following week of May 24. During paving operations, driveways will be temporarily blocked as the paving equipment installs asphalt down the street.
About the project
Reconstruction Areas
Elizabeth Street from Brock Street to Waterloo Street
Waterloo Street from Elgin Street to Sparling Bush
Project Scope
Reconstruction of the road base with asphalt
Installation of concrete curb and gutter
Sidewalks
Storm sewers and catch basins
Replacement of water services to property line
Draft design and information session video
You can download PDF copies of the design drawings below. You can also see the design, learn more about the project and find out what to expect during construction by viewing our pre-recorded information session.
Elizabeth and Waterloo Street Reconstruction - Draft Design Drawings
Elizabeth and Waterloo Street Reconstruction - Information Session Video
Please contact us with any questions, comments or concerns.
Huron Street Sidewalk Improvements - Postponed
Project Postponement Notice
At the July 27 council meeting, Council voted to postpone the Huron Street Sidewalk Improvement Project. The decision was made in order to provide residents and Council with the opportunity to review the plan and address local residents concerns such as trees, stormwater outlets, driveways and hydrants. Residents in the project area will be notified with project updates as soon as they become available.
About the Project
The Town of St. Marys has made pedestrian safety a priority in recent years and invested in projects that improve the Town's pedestrian transportation network. The Town's 2021 capital plan includes a project to further this cause and improve the sidewalk network along the Huron Street collector road corridor from Elgin Street to Rogers Avenue. Todays Town standard includes sidewalk on both sides of collector roads to accommodate the higher pedestrian and motorized traffic on these roads. The project will bring the Huron Street road allowance up to today's standard for Collector roads by installing sidewalk on the east side of Huron Street from Elgin Street to Rogers Avenue.
Construction Area
Huron Street from Elgin Street E. to Rogers Avenue.
Project Scope
Installation of sidewalks on the east side of Huron Street from Elgin Street East. to Rogers Avenue.
Movement of a fire hydrant at corner of Huron and Elizabeth.
Correction of hydro pole anchor wire
Tree removals (three) in road allowance between Elizabeth St. and Rogers Avenue. As per the Towns Tree Planting Policy, nine trees will be planted in replacement of those being removed.
Work Schedule
The timing of when this project will commence is currently undetermined.
Service Impacts
Impacts to the neighbourhood will be minimal. Construction crews will typically have yield to oncoming traffic control set up while working. Typical equipment noise related to excavating for sidewalk base and dust when cutting joints in the concrete. Freshly poured concrete is vulnerable to damage from vehicles. The Town asks for one week if possible to allow the concrete to cure before driving on it. Input period on preliminary design