Friendship Centre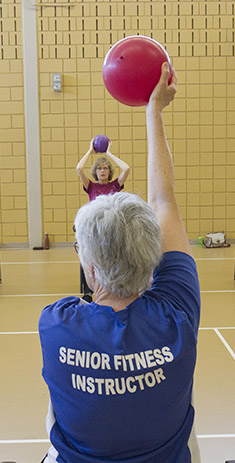 The Friendship Centre embraces a holistic approach in serving the needs of adults and people with differing abilities. Through our many activities and recreational programs, we support your social, physical and mental wellbeing. We offer access to membership benefits, as well as helpful information through our monthly newsletter. Our services work in partnership with those of Home Support Services. We also operate the Town's Community Wellness Program, which provides resources and services to help people cope with the challenges of living through the COVID-19 pandemic.
Newsletter and calendar
The Friendship Centre Newsletter is a bi-monthly publication that includes details about Town of St. Marys Senior Services programs and events. Anyone can pick up a copy at the Friendship Centre or read it below. (Accessible version available upon request.)
Current program offerings
Please visit our COVID-19 webpage for any temporary changes in services and programs.
Pre-registered indoor programming
Limited indoor recreation programming is available. Advance registration for all programs is required; the building is closed for drop-in visitors.
A list of upcoming programs, and registration is available online, or see the the Friendship Centre Newsletter (below). Call us 519-284-3272 during regular business hours (Monday to Friday, 8:30 am to 4:30 pm) if you require further support or information.
All indoor programs are being run according to current COVID-19 guidelines from the Province of Ontario and Huron Perth Public Health. Programming schedules are subject to change and/or cancellation as necessary to protect the health and safety of participants and staff.
Registrants will be notified by email or phone call of any changes to programming. Updates will also be posted to our website, Facebook page and Twitter account.