Filming Locations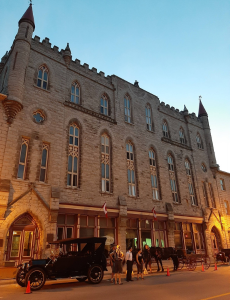 The Town of St. Marys' historic buildings and quiet streets are popular spots for filming hit television and movies. Explore some of the locations notes below to get a glimpse of what filming locations look like behind the camera.
Locations
Downtown
Downtown St. Marys, located in a heritage conservation district, offers Victorian era streetscapes with a variety of commercial buildings. A prominent number of buildings are constructed of locally quarried limestone. The St. Marys BIA does an outstanding job of decorating downtown St. Marys for the holiday season, making it an attractive themed option for holiday themed productions as well.
Quarries
The St. Marys Quarries were formerly limestone Quarries that closed in 1920. In the mid-1940s one was converted into a public swimming area and remains one of the most popular spots in the area to visit on hot summer days. Both quarries offer a unique landscape location with open water and limestone cliffs.
Riverfront
The Thames River and Trout Creek flow through St. Marys. Both offer picturesque landscapes with a combination of forested areas, open meadows, and riverfront residential properties.
St. Marys Train Station
This 1907 train station's interior and exterior have been well preserved as a designated heritage building. It has been used in previous productions such as Murdoch Mysteries.
Trestle Bridge
Constructed in the 1850s, the Sarnia Bridge served as a rail bridge spanning the Thames River for 130 years. It has since been converted into a pedestrian bridge as part of the Grand Trunk Trail.


Photo Gallery: Filming Locations will appear here on the public site.


Previous Films
Filming in St. Marys
Planning to film in St. Marys? Your desired location may require a permit. Please contact
Cultural Services Manager, Amy Cubberley
for more details.
For more information on filming locations in St. Marys, please visit the
Ontario Creates
website.