School Break Care and Camps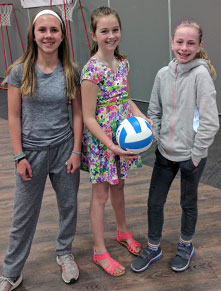 The Town of St. Marys offers two types of full day programs for children: a licensed program at the St. Marys Child Care Centre and "Camp PRC" at the Pyramid Recreation Centre. Both programs are designed to keep participants active and engaged during P.A. Days and school breaks. Don't miss your chance to enroll your child in one of these great programs. Daily and weekly rates are available.
St. Marys Child Care Centre - Full Day Licensed Program
Kindergarten to Grade 2
Located at Holy Name of Mary Catholic School (161 Peel Street North, St. Marys)
Early Childhood Educators follow an inquiry-based curriculum, allowing children to direct the program based on their interests. Educators work with children to build skills in all areas of development to ensure consistency during their out-of-school time. Learning areas are available for children to explore daily, as well as project work to examine the children's interests and support learning.
Fees
For pricing please email the Early Learning Supervisor or call 519-284-2340, ext. 500.
Dates
Watch this space for future programming dates.
How to register
Please email the Early Learning Supervisor or call 519-284-2340, ext. 500.
Pyramid Recreation Centre - Camp PRC
Town staff are working hard to design a fun-filled day camp experience, while adhering to the COVID-19 regulations set by the Province of Ontario. This means some of our favourite activities may have a special twist to ensure safety measures are in place, like social distancing. Camp PRC will continue its mission to keep your child happy, active, and engaged with a variety of activities for every interest!