News
Posted on Friday, July 26, 2019 04:00 PM
The Town of St. Marys is seeking an artist or team to create a work of public art for the Town Hall Courtyard at 175 Queen Street East. This free-standing work will act as a landmark and gateway that reflects the character and values of the community.
Applications will be accepted through the Town's Bids and Tenders web-portal (https://stmarys.bidsandtenders.ca) until Thursday, August 15 at 2:30 p.m.
Interested artists are welcome to attend a non-mandatory site visit at the Town Hall Courtyard on Tuesday,...
Posted on Friday, July 26, 2019 02:30 PM
At a public meeting on July 23, 2019, Council approved 2018 audited financial statements for the Town of St. Marys.
These statements can be viewed online in PDF format at: https://stmarys.civicweb.net/document/3224
OR
In person at the Municipal Operations Centre, located at 408 James Street South, St. Marys
Contact
André Morin, Director of Finance/Treasurer,
519-284-2340, ext. 217
amorin@town.stmarys.on.ca
Posted on Tuesday, July 23, 2019 10:00 AM
During the construction of Cadzow Park, Town of St. Marys staff worked to ensure that all of the mature trees around the park were protected from damage. They also situated the playground, splash pad, pavilion and amphitheater in such a way as to maximize the shade given by the trees in the park.
Since the construction of the park, the maple tree north of the splash pad has died. Due to its proximity to the splash pad and for the safety of everyone at the park, Town staff will begin removing the tree...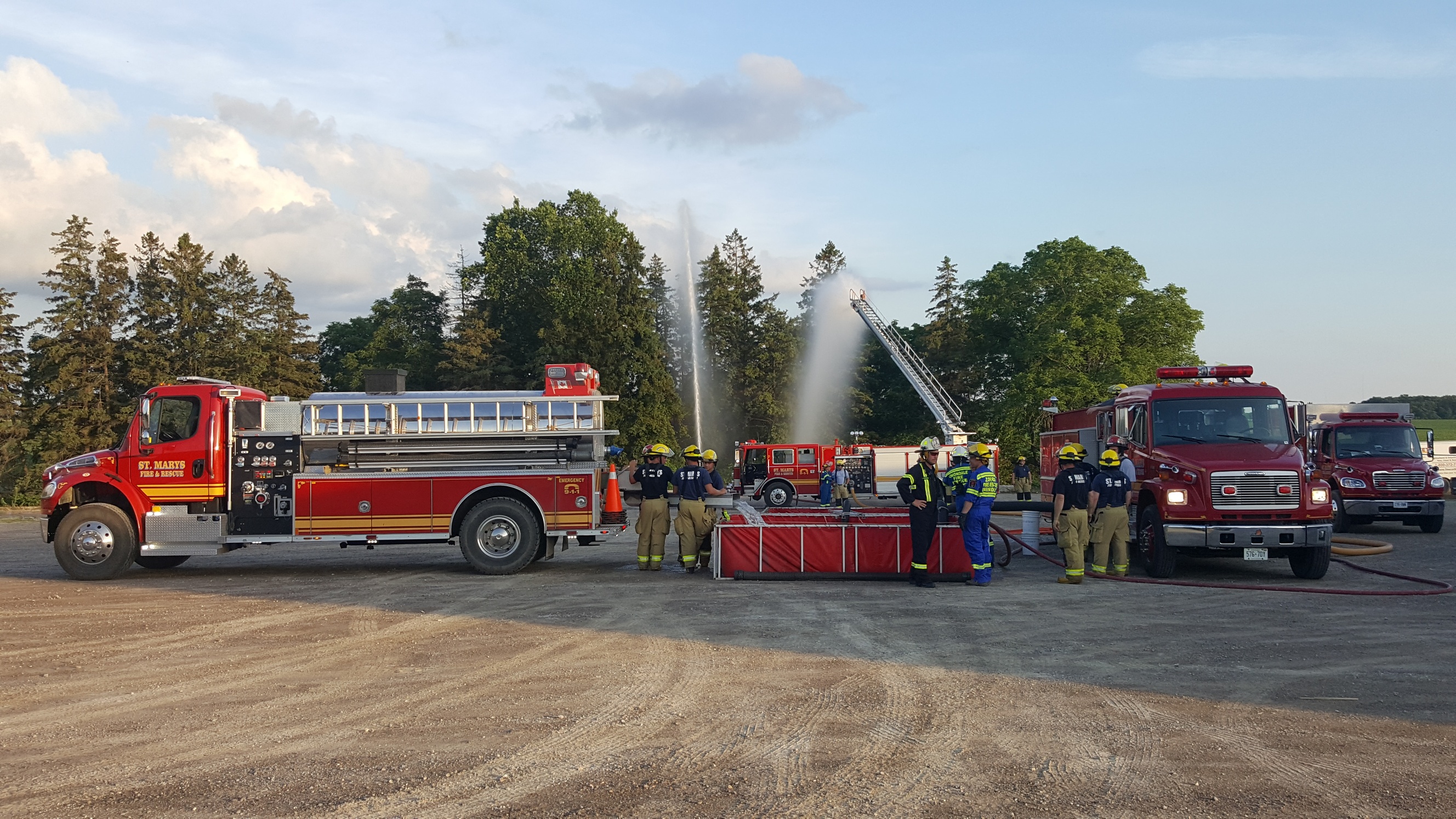 Posted on Monday, July 22, 2019 11:00 AM
On the evening of July 17, 28 members of the St. Marys Fire Department and Zorra Fire Department - Uniondale Station conducted pumper relay and tanker shuttle training designed to give firefighters practice dealing with areas with limited hydrant service.
The joint training came after a Mutual Aid Agreement between the St. Marys Fire Department and the Township of Zorra was approved by Council.
A Mutual Aid Agreement allows participating fire departments to request and receive assistance from neighboring...
Posted on Tuesday, July 16, 2019 12:15 PM

Free concerts, classes and picnic in the coming weeks
There's no shortage of fun on the Grand Trunk Trail and trestle over the coming weeks, as the 20 on the Trestle celebrations ramp up.
On Monday, July 22 at 7 p.m. the St. Marys Lions Club are sponsoring a Bubbleology Show. Miss T will create amazing bubble creations that will delight all ages. Watch from the trestle or from your watercraft on the river as they drift over the edge!
Prior to this imaginative show, the trestle will play host to...