Makerspace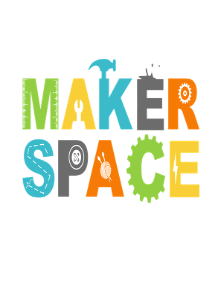 We are proud to announce that our new Makerspace is now available for appointment bookings!
In 2017, the Library was successful in acquiring grant money from the Stratford Perth Community Foundation in order to create a Makerspace. Due to space constraints, the Library's makerspace will operate as a mobile station where memebers of the community can tinker, create and make by making appointments to use the equipment. Our Makerspace, while not large or yet comprising of many different types of equipment is a new way for people to connect with and use their Library. Already, we foster a culture of "making" through programs like our After Hours craft events and kids programs throughout the summer and the rest of the year and we are excited to be able to offer this new space to the community.
For more information and to book a 1 hour appointment, visit http://booking.appointy.com/STMPL
Come create with us!
KLIK N CUT: Zing Orbit 24" and SCAL software
Professional digital cutter capable of:
Engraving (dog tags, etc.),
Vinyl cutting (signs and more!),
Paper die cuts,
T-Shirt designs
Embossing, pen designs, and more
| | |
| --- | --- |
| Standard Vinyl (6"x24") | $1.00 |
| Heat Transfer Vinyl (6"x15") | $4.00 |
| Cardstock (12"x12") | $0.50 |
Heat Press
Use our cutter to design and cut out your design and then press it on to a T-Shirt!
| | |
| --- | --- |
| Heat Transfer Vinyl (6"x15") | $4.00 |
2" Button Maker
Design and create your very own buttons!
| | |
| --- | --- |
| Button (cost of materials for one button) | $0.25 |
Adobe Creative Suite
Adobe Photoshop CC
Adobe Photoshop Lightroom CC
Adobe Illustrator CC
Adobe InDesign CC
Adobe Premiere Pro CC
Adobe After Effects CC
Adobe Audition CC
Adobe Dreamweaver CC
The Adobe Creative Suite is free to use, however, USB sticks are available for purchase to store any files as they cannot be saved on the computer.