History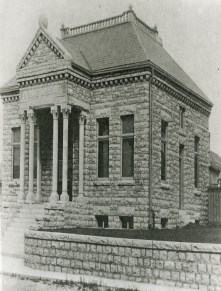 There has been a library in St. Marys since 1857. The first belonged to the local Mechanics Institute, an international organization created to provide the means for self-education for factory, office and shop workers. The library of the St. Marys branch had no permanent home and had to rent space where it could. An annual fee of $1 was charged.
In 1884, the suggestion that it become a free service was rejected; "...anyone who can't afford to pay a dollar a year should do without reading," was a comment recorded by a reporter for the Argus.
In 1904, the Andrew Carnegie Foundation offered the town a grant of $10,000 for the construction of a library building if the municipal government agreed to spend one tenth of that amount annually to maintain it. After much discussion, the town accepted the grant and the library building was opened on August 17, 1905. Miss Lottie King was hired as librarian. (Minutes of Town Council meetings concerning these decisions are available for viewing at the Museum.)
Children in the town had to wait until 1913 before a "juvenile room" was opened. That same year the library adopted the Dewey Decimal Classification system and the public was allowed access to the shelves for the first time. The library boasted 4000 volumes.
In 1986, it was realized that the building had become inadequate. The only access into the library was still via the steps at the Church Street entrance. In 1988, construction was completed on the new wing which allowed the children's section to move from the windowless upstairs to the bright airy space it now occupies on the main level. It also provided sidewalk-level access into the library. The upstairs, now served by an elevator, is well used for other library services and by the community for meetings.
We still have the table where Lottie King presided and somewhere in the stacks there may be at least one book bearing the stamp "St. Marys Mechanics Institute Library".