Fire Prevention Week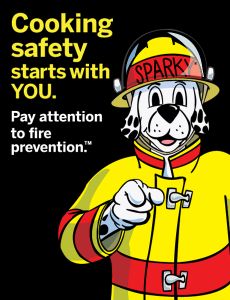 COOKING SAFETY STARTS WITH YOU!
October 8 to 14, 2023

Fire Prevention Week runs from October 8 to 14 and the St. Marys Fire Department is sending the important message of "Cooking Safety Starts with You. Pay attention to fire prevention" as part of Fire Prevention Week.
According to NFPA, cooking is the leading cause of home fires, with nearly half (49 percent) of all home fires involving cooking equipment; cooking is also the leading cause of home fire injuries. Unattended cooking is the leading cause of home cooking fires and related deaths.

The St. Marys Fire Department is organizing a variety of events during Fire Prevention Week. Be sure to follow us on Facebook for tips, guidelines, and recommendations that can help significantly reduce the risk of having a cooking fire.
Activities and Events
October 12: Sparky Visit and Swag Bag Booth
Stop by and see our firefighters and Sparky at Your Independent Grocer St. Marys from approximately 10:00 a.m. until 2:00 p.m.! Get a St. Marys Fire Department reusable bag (with important fire safety information and swag). See Sparky and get a photo with one of the St. Marys fire trucks!
October 14: St. Marys Fire Department Open House
Members of the St. Marys Fire Department are genuinely excited to host our entire community for an open house event. Visit between 10:00 a.m. and 2:00 p.m.
Enjoy station tours, fire truck and equipment demonstrations, new inflatable fire safety house, fire prevention display, the Stratford Police, Community Outreach "I've Got Your Back 911", three delicious food vendors (Campbells Catering, Donut Diva and Pierogi Queen), refreshments and a chance to meet the local firefighters and Sparky too!
St. Marys Fire Department Emergency Pet Decals
The St. Marys Fire Department along with other local fire departments have partnered with the Humane Society of Kitchener Waterloo & Stratford Perth (HSKWSP) to offer emergency decals to help keep pets safe in the event of a fire or another life-threatening emergency.
Decals are available at the fire station and while they are free, donations of any amount to support HSKWSP's Pet Pantry Program are encouraged. Funds will be used to provide pet food and supplies to Perth County pet owners experiencing a crisis.
Fire Prevention Week Downloadable Activities
Work together with your kids to keep everyone safe! See below for a variety of fun activities to download. You can get even more by visiting the National Fire Protection Association's Fire Prevention Week website.