Fire Prevention Week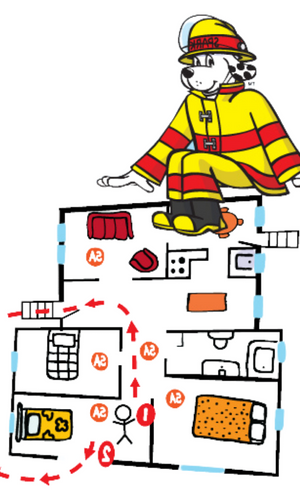 FIRE WON'T WAIT. PLAN YOUR ESCAPE!
Fire Prevention Week runs from October 9 to 15, 2022 and the St. Marys Fire Department is challenging everyone to learn about simple but important actions they can take to keep themselves and those around them safe from home fires.
Today's homes burn faster than ever. You may have as little as two minutes (or even less time) to safely escape a home fire from the time the smoke alarm sounds. Your ability to get out of a home during a fire depends on early warning from smoke alarms and advance planning.
The St. Marys Fire Department is organizing a variety of events during Fire Prevention Week. Be sure to follow us on Facebook for important daily tips and updates on learning the sounds of fire safety!
Activities and Events
Home Fire Escape Plan Contest
Enter to win a Fire Chief Experience!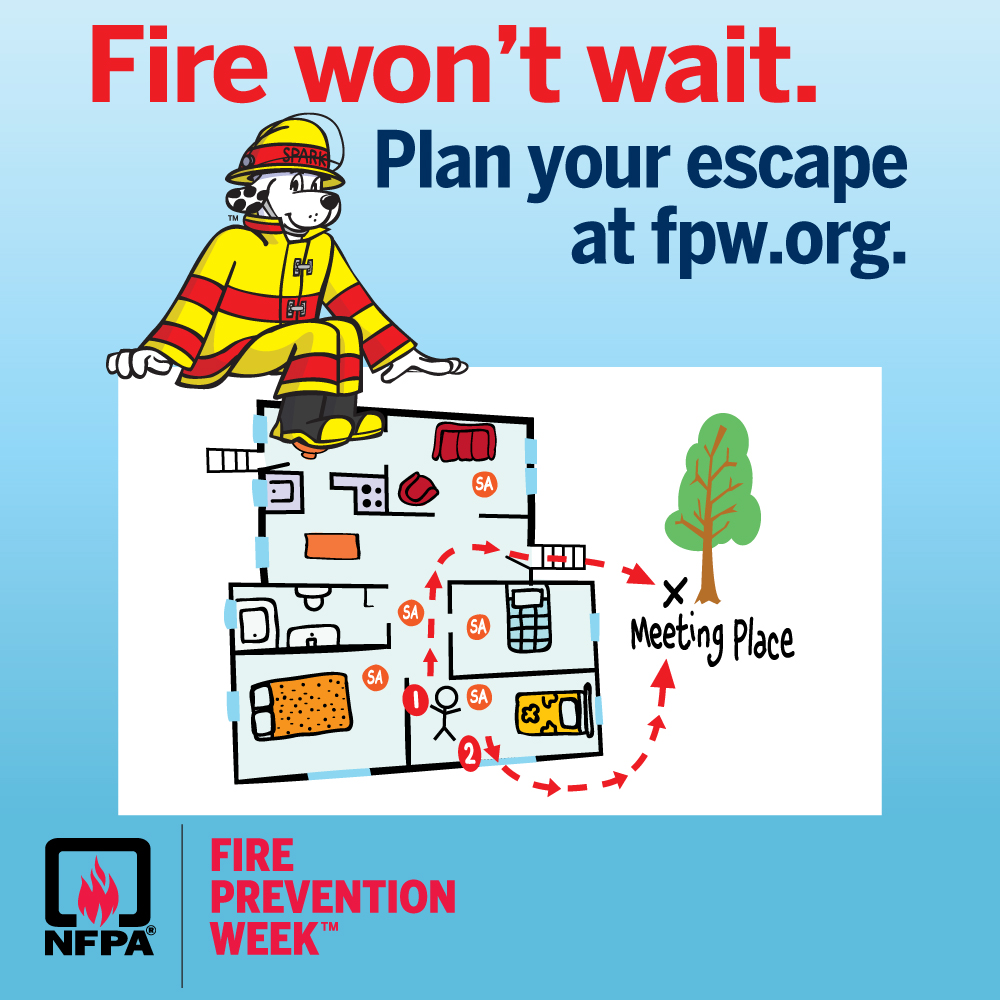 Residents are invited to enter a Home Fire Escape Plan Contest for the chance to win a "Fire Chief Experience". The winner will receive a tour of the fire hall, get to try on bunker gear, ride in a fire truck and get to spend two to three hours with the St. Marys Fire Chief and firefighters and learn all about what it takes to keep our community safe!
Download the Escape Plan Sheet here and submit it to communications@town.stmarys.on.ca or drop it off at the Fire Hall on or before October 17, 2022. Printed versions are also available to pick up at the St. Marys Fire Hall (172 James Street South).
October 11: Sparky Visit and Swag Bag Booth
Stop by and see our firefighters and Sparky at Your Independent Grocer St. Marys from approximately 10:00 a.m. until 2:00 p.m.! Get a 2022 St. Marys Fire Department reusable bag (with important fire safety information and swag). See Sparky and get a photo with one of the St. Marys fire trucks!
October 12: St. Marys Fire Department Open House
Members of the St. Marys Fire Department are genuinely excited to host our entire community for an open house event. Visit between 6:00 p.m. and 9:00 p.m. Station tours, equipment demonstrations, refreshments and a chance to meet the local firefighters will accompany the star of the show: Our new fire hall!
October 26: Annual Door to Door Visits
St. Marys firefighters will be visiting 1000 St. Marys homes in one night to hand out 2022 Swag Bags and help educate the town on the importance of fire safety! Please note due to inclement weather, these visits were rescheduled from October 19.
St. Marys Fire Department Emergency Pet Decals
The St. Marys Fire Department along with other local fire departments have partnered with the Humane Society of Kitchener Waterloo & Stratford Perth (HSKWSP) to launch an emergency decal to help keep pets safe in the event of a fire or another life-threatening emergency.
Decals are available at the fire station and while they are free, donations of any amount to support HSKWSP's Pet Pantry Program are encouraged. Funds will be used to provide pet food and supplies to Perth County pet owners experiencing a crisis. Learn more in our recent news release.
Fire Prevention Week Downloadable Activities
Work together with your kids to keep everyone safe! See below for a variety of fun activities to download. You can get even more by visiting the National Fire Protection Association's Fire Prevention Week website.