Fire Extinguishers for Cindy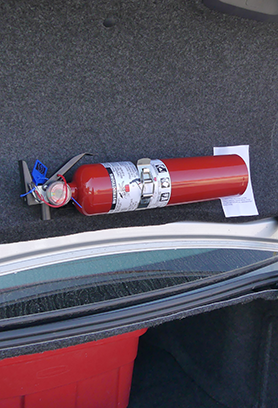 The St. Marys Fire Department has joined the Canada-wide campaign to have every vehicle on the road equipped with a fire extinguisher! They held their first event on the one year anniversary of the tragic loss of Cindy Devine, a St. Thomas resident who lost her life after she was pinned inside her vehicle after being stuck by a truck and the vehicle caught on fire (see her story below).
2021 events saw hundreds of local residents come out and 220 fire extinguishers placed into personal vehicles. Cash donations were also collected, leading to the fruition of many more fire extinguisher giveaway events.
Donations are greatly appreciated for this cause to support future events.
Fire Extinguisher Giveaway Events
All giveaways are by a draw format. You MUST pre-register in order to be entered into draws. Please see event dates below for details on how to enter for each event
October 31, 2021 - Fire Extinguisher Giveaway (by draw)
Enter your name online through this form by midnight on October 29, 2021
Watch winning names be drawn live on the Town of St. Marys Facebook page on October 30 at 10:00 a.m.
If you are one of the luck winners, pick up your fire extinguisher on Sunday, October 31 between 2:00 p.m. and 3:00 p.m. at the St. Marys Fire Station. Anyone unable to pick up their fire extinguisher may have someone else pick it up on their behalf. Any fire extinguishers that are not collected within a weeks' time will be placed back into inventory to be used at the next giveaway.
If you did not win, fire extinguishers can be purchased locally at Canadian Tire or Sam's Home Hardware.
October 2, 2021 - Fire Extinguisher Giveaway
From 10:00 a.m. until 12:00 p.m. the St. Marys Fire Department will be handing out FREE fire extinguishers at the St. Marys Fire Hall, with the purpose of them being kept in vehicles. Cash donations will be greatly appreciated for this cause.
Thank you to our incredible sponsors!
AllRoads Dodge Chrysler Jeep Ram Limited
Ashton Tire Service Ltd.
Canadian Tire St. Marys
Cascades
Dowler-Karn Ltd.
Food Land St. Marys
Harris Greig Automotive
Perth County Ingredients
Sam's Home Hardware
St. Marys Kinsmen
Your Independent Grocer St. Marys
If you are interested in becoming a sponsor, please contact Fire Chief Richard Anderson by email or 519-284-2340, ext. 201.
Need your fire extinguisher installed in your vehicle?
Harris-Greig Automotive has generously offered to install all fire extinguishers distributed through the St. Marys Fire Departments Cindy's Law events!
Please CALL AHEAD to book an appointment to have your fire extinguisher safely secured in your vehicle.
P: 519-284-1302
402 Queen Street W, P.O. Box 8
St.Marys, ON N4X 1A9
info@HarrisGreigAuto.com
www.harrisgreigauto.com
Cindy's Story

Cindy Devine, a St. Thomas resident, was on her way to work in London, Ontario on October 2, 2020. During her commute, she was struck by a truck with an impaired driver. Cindy survived the crash but her leg was pinned. People at the scene made every effort to free her from the vehicle, but then her the car caught fire. There was no fire extinguisher available.
The Good Samaritans had to retreat and the devastating realization that Cindy would not make it home that night to her children and husband came over everyone. Since this horrific day, a Canada-wide campaign has been set in motion to have every vehicle on the road equipped with a fire extinguisher.
While we know we cannot bring Cindy back, we can save lives going forward with the simple act of having a fire extinguisher installed in every vehicle.
Share Cindy's story on Facebook and share your photos of your fire extinguisher in your vehicle using #CindysLaw and #ExtinguishersForCindy.