About Adult Learning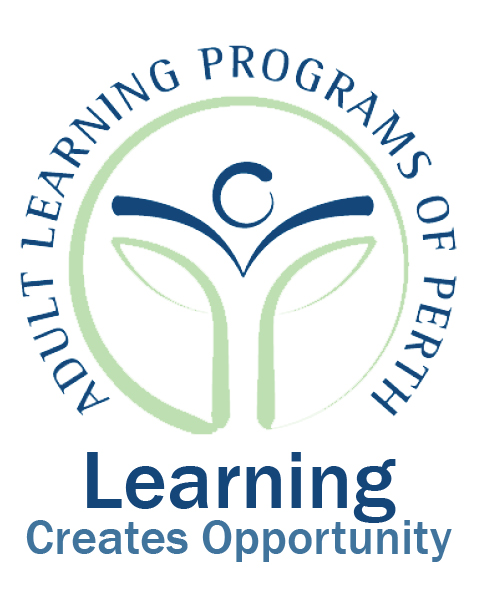 Adult Learning Programs of Perth is a community-based agency under the governance of the St. Marys Public Library Board and funded by the Ministry of Labour, Training, and Skills Development.
Adult Learning has benefited residents of St. Marys and area for over 30 years. During that time, we have evolved and expanded into Stratford and the surrounding area to meet the needs of the communities we serve.
Who do we serve?
We provide services to anyone 19 years of age or older who has a desire to learn to achieve a goal.
How do we help?
How much does it cost?
It's free! Our programs are fully funded by the Ministry of Training, Colleges and Universities, so there is no cost to learners. Financial support is also available to cover transportation and child care expenses.
How does it work?
Step 1: Fill out registration forms
Due to Ministry requirements, you must fill out registration forms as the first step to joining the program. You can download, print and complete a copy of the forms in advance and submit them at one of the Adult Learning locations. You can also call us at 519-284-4408, text us at 519-272-5174 or send us an email to book an appointment with one of our instructors who will help you complete the forms in-person.
Step 2: Complete an assessment
Once your registration forms are submitted, you will complete an initial assessment that is based on the type of training that interests you. For example, learners interested in participating in a computer course will fill out a computer skills checklist to help us determine your skill level and the types of material to teach.
Step 3: Choose a goal path
There are five goal paths to choose from:
Employment
Apprenticeship
Post-secondary
Secondary school credit
Independence
You will be required to choose a path and staff will assist you in working towards your goal
Step 4: Develop a learner plan
Learner plans include learning activities, tasks and tests that are goal-related and include milestones (ministry-standardized learning activities aimed at demonstrating progress towards a learner's goal), timelines and weekly commitments. A learner plan needs to be completed and signed by you and your instructor.
Step 5: Participate in training
Training is offered on-site in teacher-led, self-directed or small group instruction. There are also opportunities for one-to-one tutoring and online learning available. Learning materials are goal-directed, providing an opportunity to develop the skills and knowledge required to meet your goals. By setting timelines, you will be able to measure progress towards your goal.
Step 6: Exit process
You will be supported as you transition to your next steps once your meet your goal. This may include a referral to an employment support agency to get help finding work or assistance with finding an appropriate college course.
Step 7: Follow-up
After you leave the program, we will follow-up with you in a variety of ways: a phone call, text or email survey. These follow-ups occur at three, six and twelve months after you leave the program. The goal is to connect with you to ensure your continued success and to provide you with additional support, if required.