Pyramid Recreation Centre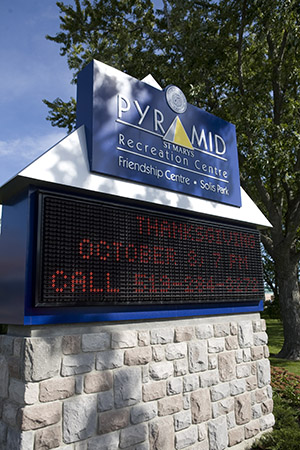 Welcome to the Pyramid Recreation Centre (PRC), home to our Recreation Department. Enjoy swimming, skating, facility rentals and programs for all ages and abilities - all in one active living facility.
Facilities
Aquatics Centre
The Aquatics Centre boasts an indoor 4-lane, 25-meter pool along with an on-deck dry sauna, leisure pool, family change rooms and an outdoor splash pad.
Arena & Ice Rentals
The arena includes two ice pads, eleven dressing rooms, two referee rooms, up to 1400 seats for spectators and an enclosed viewing, licensed area on the second level that overlooks the Rock Rink.
Camp PRC
Designed for grades two to six, Camp PRC aims to keep your child happy, active, and engaged with a variety of activities for every interest!
Town of St. Marys EarlyON Centre
The Town of St. Marys EarlyON Centre offers a variety of free programs for parents, caregivers and children ages zero to six years. These play-based and interactive programs are a great opportunity for you and your family to explore, learn and create connections within the community.
Friendship Centre
The Friendship Centre offers indoor programming, as well as virtual and telephone programming. The Centre also operates the Community Wellness Program, which provides resources and services to help people cope with the challenges of living through the COVID-19 pandemic.
Youth Centre
The St. Marys Youth Centre provides youth in grades three to ten with a safe and inclusive space to socialize, encourage development and reinforce positive play.
Advertising opportunities
Policies