Computer Training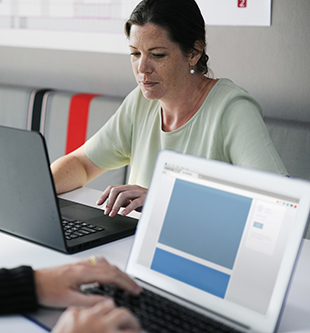 COVID-19 Update
All Town facilities are currently open and operating at regular capacity.
Masks are no longer required at most facilities, except for the St. Marys Child Care Centre and the Town of St. Marys EarlyON Centre. Parents, caregivers and staff are required to wear masks at these facilities until April 4, 2022.
The Town continues to encourage residents to follow remaining public health recommendations, like getting vaccinated and practicing good hand hygiene. Patrons are also asked to avoid visiting any Town facility if they are feeling sick.
For tips on how to prevent the spread of illness, regular updates on COVID-19 and vaccination clinics, visit Huron Perth Public Health's website.
---
Adult Learning Programs of Perth offers a range of computer training courses to suit all levels of ability. Because we are fully funded by the Ministry of Labour, Training, and Skills Development, these courses are available at no cost.
See below for a list of courses, their requirements and a description of what you will learn in each one.
Beginner Level Basic Computer
To take this course you:
May have never used a computer
Might want to fill in the gaps in your computer knowledge
You will learn to:
Turn a computer on and off
Understand computer terms
Use a mouse and keyboard
Navigate Windows 10
Manage files and folders
Use a flash drive to backup your resume and cover letter
Set up an email account
This class is for you if you:
Want to feel more confident using a computer
Want to build your computer skills for work, learning and life
Internet Basics for the Job Search
To take this course you:
Must have basic computer skills (turn on the computer, use a mouse)
Must have an email account
You will learn to:
Attach a resume and cover letter to an email message
Search for jobs online
Navigate the Service Canada website
Apply for jobs online
Research the local labour market
This class is for you if you:
Have limited experience using the Internet
Require help applying for jobs online
Microsoft Word 2016
To take this course you:
Must have basic computer skills (turn on the computer, use a mouse)
You will learn to:
Create, save and print a document (e.g.. cover letter)
Format and edit a document
Create tables and bulleted lists
Use templates to create cover letters and resumes
Insert graphics into a document
This class is for you if you:
Need help creating or updating your resume and cover letter
Want to take a college course or participate in short-term training
Would like to add an in-demand skill to your resume
Microsoft Excel 2016
To take this course you:
Must have basic computer skills (turn on the computer, use a mouse)
Feel comfortable using the computer
You will learn to:
Navigate and create a spreadsheet
Enter data into a spreadsheet
Format and edit a spreadsheet
Create formulas
Insert charts and graphs
This class is for you if you:
Would like to learn a commonly used workplace tool
Would like to add an in-demand skill to your resume
Want to take a college course or participate in short-term training or apprenticeship
Want to produce professional looking charts and graphs
Learn more
Interested in one of our free computer training courses? Contact us for upcoming program dates and registration information:
Call our office: 519-284-4408
Call or text our cell phone: 226-374-8231