Locations & Hours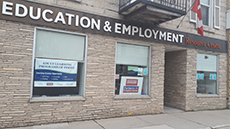 Adult Learning Programs of Perth has two offices, located in St. Marys and Stratford. Both facilities offer one-to-one volunteer tutoring and small group instruction. Our hours are flexible to accommodate those who are employed and unable to attend during regular class times.
St. Marys Office
Location
Education and Employment Resource Centre
47 Water St. S, St. Marys (entrance off of Jones St.)
Hours
Monday - Thursday: 9:00 a.m. - 4:00 p.m.
Wednesday: 12:00 - 7:00 p.m.
Stratford Office
Location
Partners in Employment
75 Waterloo St. S, Stratford, ON N5A 7B2
Hours
Tuesday and Thursday: 9:00 a.m. - 2:00 p.m.