News
Posted on Monday, November 22, 2021 11:58 AM
VIA Rail Canada is moving operations to a self-serve model for ticket purchases. Patrons are encouraged to purchase their tickets online or by phone. The St. Marys station continues to be open with an attendant on duty.
For anyone needing access to a computer to purchase tickets online may utilize the new self-serve computer that is available at the VIA station during business hours. A customer service representative will be available to assist anyone with purchasing their own tickets if needed.
Hours...
Posted on Wednesday, November 17, 2021 10:12 AM
The first snow has fallen, the garland is hung and the lights are strung for a safe return to the joys of Christmas this weekend in St. Marys!
Beginning this Friday, November 19 and continuing until Sunday, the Downtown Merchants Christmas Open House is the perfect opportunity to cross everyone off your gift list. Participating merchants are "paying the tax" all weekend long! Look for extended shopping hours on Friday, free horse-drawn wagon rides and live entertainment on Saturday, and a farmers'...
Posted on Friday, November 12, 2021 09:32 AM
Disruption
Elizabeth St. from King St. S. to James St. S. will be closed to vehicles and pedestrians from November 15 to 17 while the Canadian National Railway Company (CN) completes a major railway crossing rehabilitation project.
Contact
Morgan Dykstra | Public Works & Planning Coordinator
519-284-2340, ext. 213 | mdykstra@town.stmarys.on.ca
Canadian National Railway Company
contact@cn.ca | 1-888-888-5909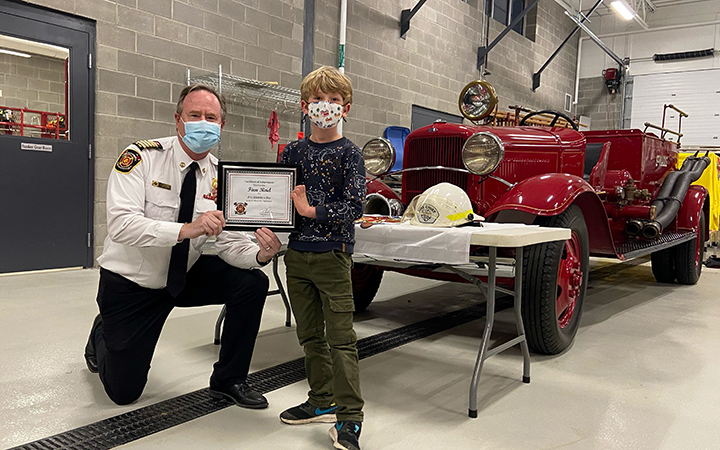 Posted on Tuesday, November 09, 2021 09:26 AM
If St. Marys felt extra safe on Wednesday, October 27, it was for good reason: there were two Fire Chiefs on the job!
St. Marys Fire Department Chief Richard "Andy" Anderson welcomed a new co-worker for the day, six year old Finn Reid. Finn was the winner of this year's Fire Prevention Week colouring contest.
Finn was awarded with a "Fire Chief Experience" where he received a tour of the new fire hall, tried on bunker gear, took a ride in a pumper fire truck, visited with Perth County Paramedics...
Posted on Monday, November 08, 2021 02:36 PM
St. Marys Town Council is holding a Special Meeting of Council on Tuesday, November 16, 2021 from 9:00 a.m. to 2:30 p.m. that will mark the start of Town Council budget deliberations. The meeting will be held virtually and will be live streamed to the Town's YouTube channel (Town of St. Marys). The agenda will be available by November 12, 2021.
Public input can be received up to 4:30 p.m. the day prior to the meeting and must be delivered to the Clerk at 175 Queen Street East or to clerksoffice@town.stmarys.on.ca...