Swimming Quarry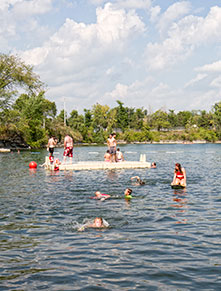 The famous Swimming Quarry is Canada's largest outdoor freshwater swimming pool! Enjoy beach volleyball, cliff jumping (subject to water levels), a water trampoline, Tiki Hut snacks, two rafts, a slide and stand up paddleboarding.
Bike racks and life jackets available - Free parking accross the street
Photo Gallery: St. Marys Quarry will appear here on the public site.
2019 Hours
| | |
| --- | --- |
| Dates | Time |
| June 15, 16, 22 and 23 | 1:00 to 5:00 p.m. |
| June 28 - September 2 | 1:00 to 8:00 p.m. |
Admission Fees
Public Swim Admission

Child/Youth
3-18 years

Adult
19-64 years

Older Adult
65+ years

Single
$3.50
$4.75
$4.50
15 passes
$47.29
$64.07
$60.71
30 passes
$92.48
$125.29
$118.73
60 passes
$180.75
$244.89
$232.06
Family Pass (Single): $13.25
Quarry After 6 promo: From Quarry Kick-off to Labour Day, enjoy a swim at the quarry after 6:00 p.m. for only $3!
Admission Guidelines
Note: Life jackets are available.
7 years and under
Regardless of swimming ability, children must be accompanied by a parent or guardian who is at least 12 years of age and responsible for their direct supervision, with a maximum of 4 children per parent/guardian. Parent/guardian must be in bathing attire and within arm's reach of the child(ren) at all times in and out of the water.
8 to 11 years
Child cannot complete swim test:
Children must be accompanied by a parent or guardian who is at least 12 years of age and responsible for their direct supervision. Maximum number of children 8 bathers to one parent/guardian (8:1) with approved life-jackets. These are to be worn by all non-swimmers in their charge. Parent/guardian must be in bathing attire and within arm's reach of the child(ren) at all times in and out of the water.
Child can complete swim test: Admitted unaccompanied.
11+ years
Admitted unaccompanied. Recommended to always swim with a buddy.
Quarry Swim Test
Tread water for 3 minutes and swim 100 meters continuously
Swim Attire
Bathing attire is used for the purpose of swimming only. T-shirts are permitted. Undergarments, cut-offs and street clothes are not permitted.
Definitions
Direct Supervision - Able to render immediate assistance, 'within arm's reach'.
Guardian - A person of at least 12 years of age who is responsible for the children.
Activities and Programs
Stand up paddleboarding rentals
Experience the quarry on a stand up paddleboard!
Ages: 12 years and up (Youth ages 12 to 17 must have a parent to sign waiver.)
Fee: $8 for 45 minutes
Cliff jump and slide (water levels permitting)
Take a plunge off our cliff jump or try out our slide (water levels permitting).
Cliff Jump Rules:
You must be 8 years and older to use the cliff jump
Feet first jumping only; no running, handstands, inwards, flips, dives, spinning
Only one person may jump at a time; all others must wait behind line
Look before you jump; wait until the area is clear before entering
You must jump straight off the end of the cliff jump and swim out of the area immediately
Do not sit or climb on the railings
Water trampoline
Bounce on our 25-foot water trampoline!
Ages: Children 8 years and older only
Rules:
Maximum of 6 people on the trampoline at a time
Always enter the water feet first
Do not attempt flips, somersaults or other acrobatic manoeuvres on the trampoline
Never swim or play under or around the water trampoline
Bounce in the centre of the trampoline surface away from the padded metal frame
Maximum 15 minute jump during peak times
Beach volleyball
The perfect setting for a fun game with friends or family!
Water running classes
Deep water running closely mimics actual running movements. This class is easy on the joints while strengthening and building muscle. Enjoy a fun, aerobic and calorie burning workout!
Dates: Mondays, Tuesdays, Wednesdays and Thursdays from July 2 to August 29, 2019
Time: 7:00 - 7:45 p.m.
Cost: $3
Drop-in swimming lessons (Levels 5 to 10)
Drop by and learn how to swim from one of our enthusiastic instructors. These classes are for levels 5 to 10.
Dates: Monday to Friday from July 2 to August 23, 2019
Time: 11:15 - 12:00 p.m.
Cost: $7.25
Registered programs
Join us for a variety of registered programs, including day camps, Junior Lifeguard Club and Advanced Aquatics courses. To learn more, view the Town of St. Marys Recreation and Leisure Program Guide online or pick-up a copy at Pyramid Recreation Centre Guide Services (317 James Street South, St. Marys).
Special Events
Date and time
Event
Cost
Description
July 17, 2019
6:00 - 7:15 p.m.
Fire Department Water Rescue Demo
Regular admission

Water Rescue Technicians will perform a live water rescue demonstration using equipment such as the Rapid Deployment Craft.

July 21 - 27, 2019
National Drowning Prevention Week
Regular admission
Watch for our "Draw a Water Smart Super Hero" activity.
August 31, 2019
10:00 a.m. - 12:00 p.m.
Quarry Pooch Plunge
$3
Support the Stratford Perth Humane Society while enjoying a day of sun, music and prizes with your pup.
Frequently Asked Questions
What are the origins of the Quarry?
The quarry was constructed in the mid-1800s. Workers used dynamite to extract limestone blocks until the 1930s. Between 1930 and 1935, the quarry filled with water and was used as a popular swimming spot by the locals. In 1945, the town bought it and the adjoining Thames Quarry along with 50 acres of surrounding land for $2,200.
How deep is the Quarry?
The Quarry ranges between 10 to 30 feet deep.
Can I swim or boat in the west/fishing quarry?
You may fish in the west "fishing" quarry between dawn and dusk from the Riverview Walkway, platform and stone outcrop. Swimming and boating in the west quarry is prohibited by the Quarry By-law.
Can I bring my pet?
No pets are allowed except during special events like the "Pooch Plunge".