Pyramid Recreation Centre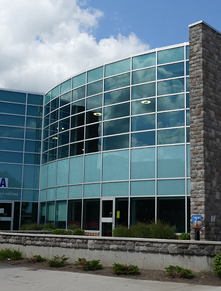 Welcome to the Pyramid Recreation Centre (PRC), home to our Recreation Department. Enjoy swimming, skating, facility rentals and programs for all ages and abilities - all in one active living facility.
Staff directory
Please visit the Contact Us page. Staff are listed under the Friendship Centre and Pyramid Recreation Centre titles.
Aquatics Centre
The Aquatics Centre boasts an indoor 4-lane, 25-meter pool along with an on-deck dry sauna, leisure pool, family change rooms and an outdoor splash pad.
Arena
Rent one of our two ice pads for floor hockey, volleyball, in-line skating, concerts and more! The arena benefits from eleven dressing rooms, two referee rooms, up to 1400 seats for spectators and an enclosed viewing, licensed area on the second level that overlooks the Rock Rink.
Skating programs include tiny tots, public skating and more!
Community Centre and Room Rentals
With a capacity of over 400, the Community Centre is the perfect location for trade shows, wedding receptions, buck and does, dog shows, fashion shows, bar mitzvahs, and other special events. We also offer small and medium room rentals and an industrial kitchen. Learn more about Pyramid Recreation Centre room rentals.
Friendship Centre and Home Support Services
Programs include shuffleboard, dining, scrapbooking, cards, exercise groups, choir, foot care, Meals on Wheels, language classes, computer instruction and more. Learn more about the Friendship Centre and Home Support Services.
Youth Services
We host a variety of child and youth recreation programs such as Camp PRC and the St. Marys Youth Centre.
Map and Floor Plan
View the Pyramid Recreation Centre map and floor plan.
Concussion Prevention and Management Policy
Click the following link to review our Concussion Prevention and Management Policy.