Locations & Hours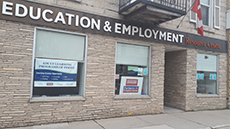 COVID-19 Update
All Town facilities are currently open and operating at regular capacity.
Masks are no longer required at most facilities, except for the St. Marys Child Care Centre and the Town of St. Marys EarlyON Centre. Parents, caregivers and staff are required to wear masks at these facilities until April 4, 2022.
The Town continues to encourage residents to follow remaining public health recommendations, like getting vaccinated and practicing good hand hygiene. Patrons are also asked to avoid visiting any Town facility if they are feeling sick.
For tips on how to prevent the spread of illness, regular updates on COVID-19 and vaccination clinics, visit Huron Perth Public Health's website.
---
Adult Learning Programs of Perth has two offices, located in St. Marys and Stratford. Both facilities offer one-to-one volunteer tutoring and small group instruction. Our hours are flexible to accommodate those who are employed and unable to attend during regular class times.
St. Marys Office
Location
Education and Employment Resource Centre
26 Wellington Street South, St. Marys, ON
Hours
Monday - Thursday: 9:00 a.m. - 4:00 p.m.
Wednesday: 12:00 - 7:00 p.m.
Stratford Office
Location
Partners in Employment
75 Waterloo St. S, Stratford, ON N5A 7B2
Hours
Tuesday and Thursday: 9:00 a.m. - 2:00 p.m.