Gypsy Moths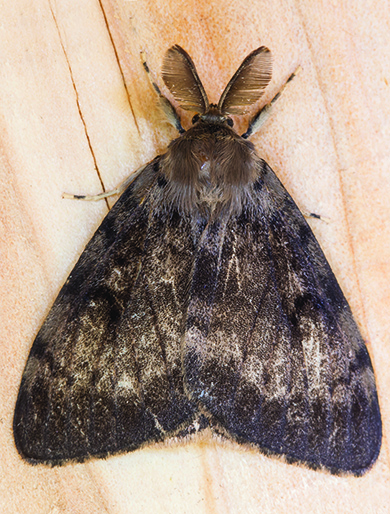 Gypsy Moths are a non-native invasive species. The Town of St. Marys is seeking residents' assistance to help reduce the proliferation of the Gypsy Moth within the Town's urban forest.
Gypsy moths are a concern because they feed on the leaves of broadleaf trees, and on some conifers (evergreens). One single gypsy moth caterpillar can eat an average of one square metre of leaves during the larval stage. Gypsy moth outbreaks occur every 7 to 10 years.
How to Help Control Gypsy Moths
Egg Masses (November to April)
Each egg mass can contain anywhere from 500 to 1000 eggs.
Remove picnic tables, swing sets, and lawn furniture from around the bases of tree as these objects provide them with protection from the heat of the sun.
Actively search for egg masses as they can be difficult to find. Common hiding places include: the underside of branches, tree trunks, fences, firewood, outdoor furniture, swing sets, boats, trailers, and under the eaves of buildings.
When an egg mass is found, scraped off with a knife and do any of the following:

Drop it into a bucket filled with hot water and household bleach or ammonia.

Drop it into a bucket filled with hot soapy water.

Drop it into a paper bag and burn the bag.
Watch this informative video from the Upper Thames River Conservation Authority for best practices on removing Gypsy Moth egg masses to help protect trees and shrubs.
Caterpillars (May to August)
The caterpillars of the gypsy moth are dark and hairy. They have five blue dot pairs and six red dot pairs on their back.
Caterpillars and pupae can be handpicked and crushed. The long hairs of the caterpillar can cause skin irritation or allergic reactions in some people so be sure to wear gloves.
Once the caterpillars grow to about 2.5 cm in length by mid-June, they will move down the trunk. Reduce the number of larvae on the trees in your yard by trapping them using the burlap cloth method:

Wrap a piece of burlap cloth around the stem/trunk of your tree.
Tie a rope around the center of the burlap.
Drape the burlap cloth over the rope so there is an overhang. The caterpillars will crawl underneath to seek shelter during the day.
Every afternoon, lift the overhanging burlap and collect any hiding caterpillars.
Put them into a bucket of soapy water for a few days to destroy them, then dispose of the contents.
Pupae (June to July)
Gypsy Moth pupae are dark brown, shell-like cases approximately two inches long and covered with hairs.
Pupae are primarily located in sheltered areas such as tree bark crevices or leaf litter.
Adult Gypsy moths emerge from the pupae in 10 to 14 days.
Moths (July to August)
To trap female moths (which are unable to fly) wrap burlap lower on the trunk of the tree to trap the moth before it crawls up the tree and lays eggs.
Once captured, put the moths in a container of soapy water and leave them there for a few days, then dispose of the contents.
To trap male moths, hang non-toxic pheromone baited traps (available at hardware and nature stores) in trees to attract them. The scent draws the male moth and the trap then prevents them from mating with female moths and producing eggs.
Once captured, put the moths in a container of soapy water and leave them there for a few days, then dispose of the contents.
Additional Information on Gypsy Moths:
Visit the Province of Ontario's website for more information on the characteristic and lifecycle of gypsy moths, symptoms and damage, control measures, natural controls and more.