Leaf and Yard Waste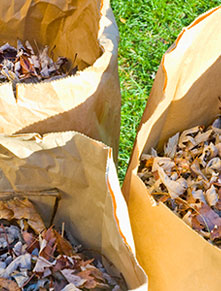 Municipal Operations Centre
408 James Street South,
St. Marys, ON.
N4X 1B6
P.: 519-284-2340
F.: 519-284-0902
Map this Location
IMPORTANT NOTICE
The 2021 curbside leaf and yard waste collection has been updated to better serve the residents by providing a targeted approach to material collections. As such, in 2021 the curbside collection program will start earlier than in previous years while lessening collection events throughout the summer when material volumes significantly decrease.
See the updated collection flyer to ensure you don't miss the programs new collection dates.
Re-useable leaf and yard waste containers will again not be permitted in 2021 due to concerns about COVID-19. Residents are asked to use bio-degradable Kraft-style paper bags for loose leaf and yard waste and to tie twigs and branches into small bundles.
---
The Town of St. Marys offers three options for disposing of leaf and yard waste: curbside collection, the Municipal Operations Centre drop-off depot and the St. Marys landfill.
Curbside leaf and yard waste collection
Leaf and yard waste is picked up on select dates from the last week of April to mid-November.
Dates for leaf and yard waste collection are listed below and on our collection flyer. A map of collection areas is also available below.
Leaf and yard waste collection map
Southeast and Southwest Area
May 3, 2021
May 17, 2021
May 31, 2021
June 1, 2021
June 28, 2021
July 26, 2021
August 23, 2021
September 20, 2021
October 18, 2021
November 1, 2021
November 15, 2021
North and West Area
April 26, 2021
May 10, 2021
May 24, 2021
June 21, 2021
July 19, 2021
August 30, 2021
September 27, 2021
October 25, 2021
November 8, 2021
November 22, 2021
Collection requirements
Leaf and yard waste must be placed in biodegradable kraft-style brown paper leaf and yard waste bags and set at the curb by 7:00 am on collection days.
Leaf and yard waste that is set out in re-usable containers, plastic bags or raked into piles on the boulevard or street will not be collected.
Acceptable and unacceptable materials
See below for a list of materials that qualify for pick up as part of the curbside leaf and yard waste collection program.
Acceptable
Grass clippings

Leaves

Plants

Weeds

Branches

Brush and tree trimmings

Must be no longer than 0.9 m (3 ft), with a diameter of 7.62 cm (3 in) or less and must weigh less than 20 kg (44 lbs)

Garden fruits and vegetables (including pumpkins)
Unacceptable
Top soil

Sod

Rocks

Christmas trees

Lumber or construction wood

Plastic flower/plant pots or trays

Tree stumps

Household waste

Food waste

Plastic bags

Large branches
Municipal Operations Centre Drop-off Depot
St. Marys residents and business owners can dispose of leaf and yard waste material at the Municipal Operations Centre year-round and free of charge. The depot is open 7 days a week from dawn to dusk at 408 James Street South. Please enter the depot off of South Service Road.
St. Marys Landfill
Leaf and yard waste can be dropped-off at the St. Marys landfill year-round and free of charge. For more information, including location and hours of operation, visit the Landfill page.