E-waste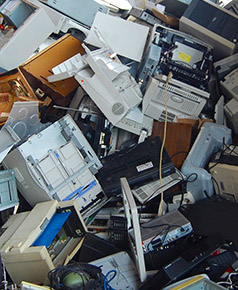 Municipal Operations Centre
408 James Street South,
St. Marys, ON.
N4X 1B6
P.: 519-284-2340
F.: 519-284-0902
Map this Location
IMPORTANT NOTICE
The Electronic Waste Depot at the St. Marys Landfill is now open during regular landfill hours.
The depot is operating under modified disposal requirements due to COVID-19:
Customers are now required to sort and place material as directed at the site.
New signage and guidance information has been posted for customers to reference prior to disposal.
A list of materials that are accepted at the depot is available below.
For more information, visit our Landfill page or call 519-284-2340, ext. 221.
---
Looking to get rid of that old computer taking up space in your basement? Why not drop it off at our E-waste Depot!
The Town of St. Marys is proud to offer an E-Waste program to residents, free of charge at the landfill. E-Waste can be dropped off at the landfill for safe, responsible disposal. The worker on-site will let you know exactly where to drop-off any material.
A - Z Acceptable Materials
A
Amplifiers
Analog computers
Answering machines
ATM machines
Audio ecorder/player (Tape/CD)
B
Bar code scanners
Bullion (gold/silver/platinum/palladium)
C
Cable TV transmission
Cameras and accessories
Cellular phones
Citizens band (CB) radio
Closed circuit TV equipment
Computer boards
Computer monitors
Computer power supplies
Computer processors
Computer towers and servers
Console hardware and accessories copiers
D
Dental scraps
DVD players
E
Electrical contacts (gold/silver)
Electronic handheld devices (eg. PDA)
Equipment calculators
F
Fax machines
Floppy/CD/DVD drives
G
Games controllers
Global positioning systems (GPS)
Gold plated items (eg. stereo contact, pens)
H
I
Infrared wireless devices
intercom systems
Intercoms
J
Jewellery (gold/silver/platinum)
Jewelry sweeps
K
L
LAN communication equipment
Laptop computers
M
Micro computers
Military electronics mixers
Mixing boards modems
N
O
P
Pagers
Point of sale (POS) terminals
Portable hardware and accessories
Printers and ink/toner
Q
R
S
Satellite TV equipment scissors
Scrap form computer production small motors (e.g. ¼ HP)
Sterling silver switching equipment
T
Telecommunication equipment telephones (wireless/cordless)
Televisions telex machines
Traffic signals tuners
Typewriters
U
V
VCR player video projectors
W
Wan communication equipment
X
Y
Z