Annual Budget
The Town of St. Marys Annual Budget is a planned itemized summary of money coming into the municipality. It directs how that money will be spent over a specific period of time. The amounts to be spent are derived through the input of staff, legislated requirements, public input, and sometimes needs beyond anyone's control, such as funds to replace aging infrastructure with limited resources.
Download the 2021 Municipal Budget (PDF format, accessible version available upon request).
Your feedback is very valuable to Town Council and municipal employees when determining the annual budget. Visit Speak Up St. Marys for your opportunity to raise questions, vote on topics and provide feedback on municipal service levels, community concerns, and budget spending in general. This is YOUR chance to not only learn about the municipal budgeting process, but to SPEAK UP and have your say, and earn some awesome prizes as a 'thank you'!
Budget Allocation
How is the annual budget divided among Town of St. Marys facilities and services?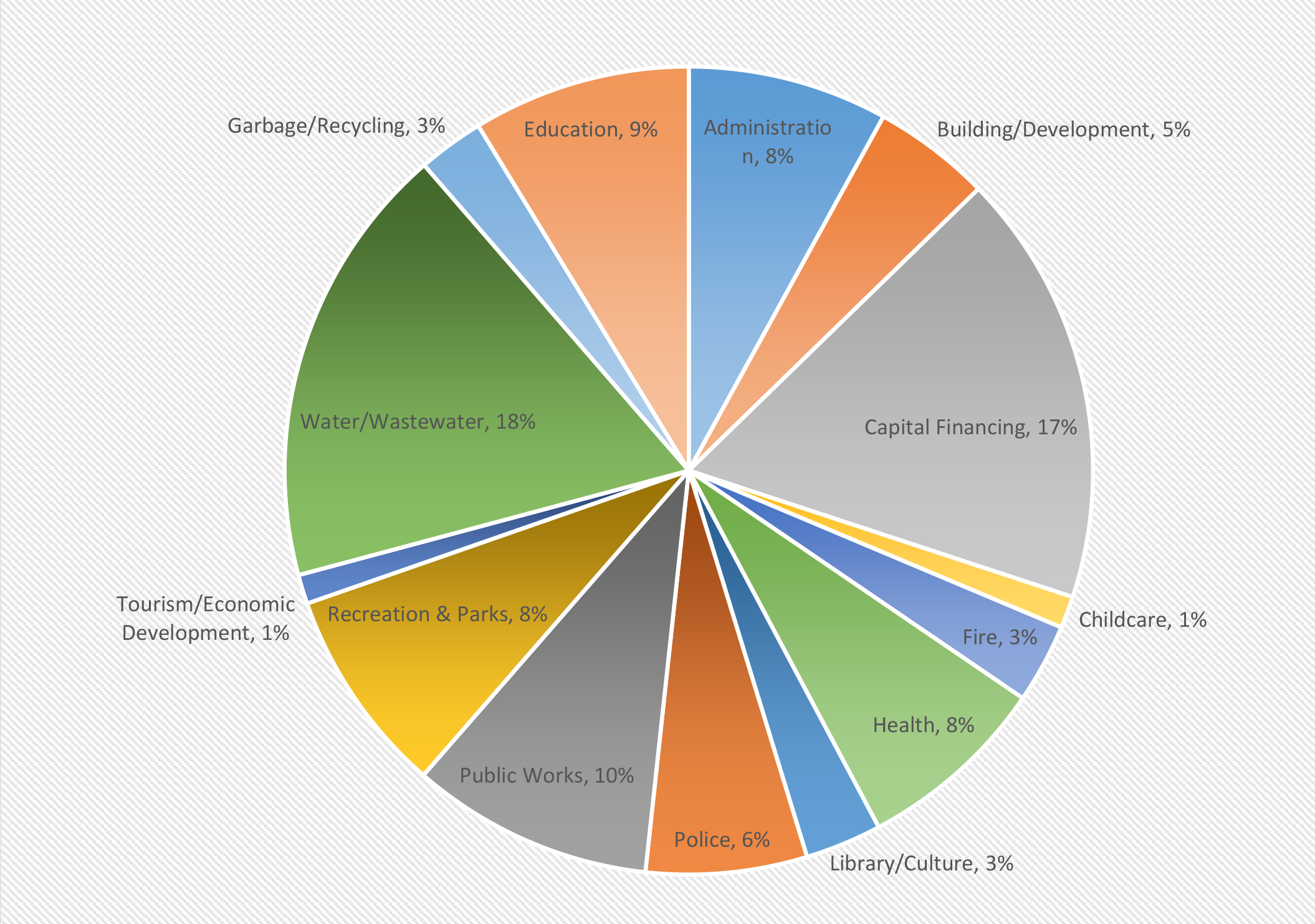 Frequently Asked Questions
Can I provide input during the budgeting process?
Yes! Please visit Speak Up St. Marys where you'll have the opportunity to raise questions, vote on topics and provide feedback on municipal service levels, community concerns, and budget spending in general.
You can also attend the Public Open House on October 26, 2021. To speak at a Council meeting, please contact the Clerk.
What is the municipal burden on an average residential dwelling in St. Marys?
As indicated in the above chart, the following outlines the municipal burden* on the average residential dwelling in St. Marys. The Municipal Burden is the amount an average residential property in St. Marys pay for on your property tax bill and your water and wastewater fees charged by Festival Hydro on the Town's behalf.
| | | |
| --- | --- | --- |
| Service | Amount | Percent |
| Administration | $391.70 | 8% |
| Building/Development | $230.91 | 5% |
| Capital Financing | $849.18 | 17% |
| Childcare | $62.87 | 1% |
| Fire | $155.50 | 3% |
| Health | $376.37 | 8% |
| Library/Culture | $149.60 | 3% |
| Police | $315.16 | 6% |
| Public Works | $474.42 | 10% |
| Recreation & Parks | $404.26 | 8% |
| Tourism/Economic Development | $57.05 | 1% |
| Water/Wastewater | $872.00 | 18% |
| Garbage/Recycling | $129.00 | 3% |
| Education | $427.00 | 9% |
| | | |
| Total | 4,895.00 | 100.00% |
*Based on 2021 budget data.
What is the annual budget?
The municipal budget is a policy and planning document that sets the Town's priorities and level of service.
How do property taxes in St. Marys compare to other municipalities?
In 2019, St. Marys participated in the BMA Residential Taxes Comparison Study. St. Marys falls among the "mid" range municipalities for residential property taxes. While St. Marys residential tax rate alone may seem to be higher than the average community, when applied to the average property assessment, the average dollar amount paid in residential taxes puts St. Marys in the mid-range when compared to other municipalities. To better understand how the tax rate is determined, please see the video under the next question. For further details on this study, you can view the full Municipal Study here.
A printed copy of this study is available upon request.
How is the tax rate determined?
In setting the annual budget, and thereby arriving at the municipal tax rate, the Town determines all anticipated expenses, deducts the revenue it expects to receive, and arrives at an amount to be raised from property taxation. This amount is divided by total property assessment to arrive at a property tax rate.
Annual tax rates are calculated during the spring budget process. Once the tax levy by-law has passed, the rates will be posted in PDF format on this page.
How is the annual budget determined?
Council sets the priorities and services the Town will provide.
Staff provide Council with the estimated cost to provide those priorities and services.
Council deliberates, amends and finalizes the budget details for the year and sets the total dollars required for the year.
The Treasurer uses the final budget numbers, along with property assessment information and property tax policies to determine the annual tax bills for each property for the year.
Staff deliver the services to the public.
Where can I view financial reports?
Financial reports can be viewed in the Town's online document centre.
Where can I find more information on property tax rates, due dates, certificates and more?
Please visit our Property Taxes webpage for more information.
Past Budget Documents
Access our library of previous budgets and financial reports.