Locations & Hours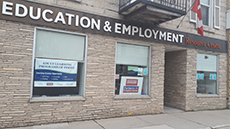 IMPORTANT NOTICE
Due to COVID-19, we are currently offering one-to-one, in-person instruction by appointment only. We also have virtual learning opportunities available through Google Classroom, Zoom and email.
Please contact us by phone (519-374-8232) or email (alearning@town.stmarys.on.ca) for more information.
Updates about the status of municipal programs and services will be shared on the Town's COVID-19 page as they become available.
---
Adult Learning Programs of Perth has two offices, located in St. Marys and Stratford. Both facilities offer one-to-one volunteer tutoring and small group instruction. Our hours are flexible to accommodate those who are employed and unable to attend during regular class times.
St. Marys Office
Location
Education and Employment Resource Centre
26 Wellington Street South, St. Marys, ON
Hours
Monday - Thursday: 9:00 a.m. - 4:00 p.m.
Wednesday: 12:00 - 7:00 p.m.
Stratford Office
Location
Partners in Employment
75 Waterloo St. S, Stratford, ON N5A 7B2
Hours
Tuesday and Thursday: 9:00 a.m. - 2:00 p.m.