Locations & Hours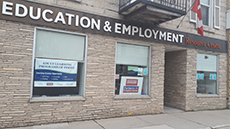 Adult Learning Programs of Perth has two offices, located in St. Marys and Stratford. Both facilities offer one-to-one volunteer tutoring and small group instruction. Our hours are flexible to accommodate those who are employed and unable to attend during regular class times.
St. Marys Office
Location
Education and Employment Resource Centre
26 Wellington Street South, St. Marys, ON
Hours
Monday - Thursday: 9:00 a.m. - 4:00 p.m.
Wednesday: 12:00 - 7:00 p.m.
Stratford Office
Location
Conestoga College, Stratford Campus (Room 31)
130 Youngs Street, Stratford, ON
Hours
Tuesday and Thursday: 9:00 a.m. - 2:00 p.m.