About the BIA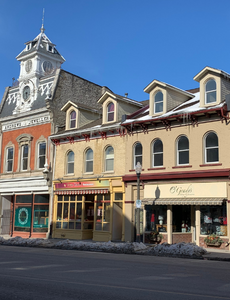 The St. Marys Downtown Business Association is a not-for-profit organization established to revitalize the central district of the Town of St. Marys. We are designated as a Business Improvement Area (BIA) through the Ontario Municipal Act and a Town of St. Marys by-law enacted in 1979.
Our goal is to ensure a healthy economic environment for our community and make our downtown a better place to shop, dine, live, work, invest, visit and play!
Our mandate is simple: To provide effective leadership in order to beautify and promote St. Marys' downtown as a unique and vibrant entertainment, social, cultural and economically viable business centre.
View maps of the town, as well as the Business Improvement Area boundaries.


Current BIA Board members
Chair: Megan Feeney
Vice-Chair: Alexandra Pritchard O'Shea
Treasurer: Sue Griffiths
Council Representative: Councillor Brogan Aylward
Board Members:

Claire Chapple
Lisa Fewster
Jan Scott
Daniel Troyer