Discover Our Town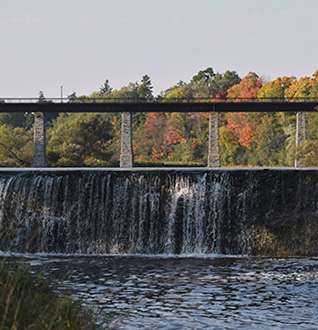 Close to everything yet removed from the ordinary, St. Marys is a town that works – and a town that plays. From being a grain and agricultural centre in the late 1800s to becoming an incubator for unique businesses, a hub for artists and artisans, and the host of many community events, St. Marys illustrates why small towns work. Charming history paired with modern amenities, all wrapped in an extraordinary setting, in any season.
Stroll our scenic streets or explore our many parks and trails for walks or more athletic pursuits. The Thames River is an oasis for sunset seekers, kayaks and canoes. Need more adventure during the summer months? Make a splash at the St. Marys Quarry, Canada's largest outdoor swimming pool.
Our Museum and Archives is the perfect place to learn about our past. The range of activities offered by our Carnegie Library and state-of-the-art Pyramid Recreation Centre demonstrates our present. The St. Marys Station Gallery, uniquely located at our VIA Rail station, reveals our culture. Explore our many community events to help plan your visit.
St. Marys is conveniently located just 20 kilometres from Stratford, 40 kilometres from London and 175 kilometres from Toronto.
Want in-person tourism advice while visiting St. Marys? Our tourism office is temporarily located at the St. Marys Museum (177 Church St. S.) in Cadzow Park. Pop in on weekdays between 9 a.m. and 1 p.m. for brochures and a chat with our friendly staff to make the most of your visit!