Festivals and Events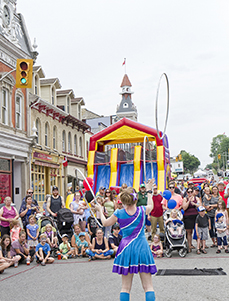 2020 is a very special year in St. Marys!
The once-every-decade St. Marys Homecoming weekend occurs July 3-5. This "party of the decade" will indeed be unique, serving as a celebratory umbrella for other beloved events such as the Stonetown Heritage Festival and Lions Car Show, also occuring the same weekend.
Come Saturday, Aug. 15, downtown St. Marys will be set aglow via a new event. Save this date for an illuminating, cultural evening for all ages!
Baseball fans will hit a home run by attending the Canadian Baseball Hall of Fame's Induction Day on Saturday, June 20. The St. Marys Museum's popular Melodies at the Museum concert series is expanding and bring an entire summer's worth of music to beautiful Cadzow Park.
Celebrate Canada Day with a classic picnic and outdoor fun -- taking place this year at Milt Dunnell Field!
For even more community events, check out our community calendar!