We offer summer camps, recreation programs, Kids Klub, the Youth Centre and so much more.
Senior Services offers drop-in and instructional programs to keep you active, creative, independent and healthy. Join us for events such as wellness seminars, bingos and dinners. Learn more about programs for ages 50+.
Rec & Leisure Guide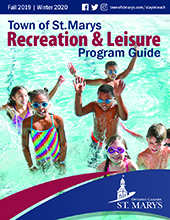 The Town of St. Marys Recreation & Leisure Program Guide is here! Discover how to stay active and entertained this season. View the Guide online or pick-up a copy at most municipal facilities.
Pyramid Recreation Centre
317 James St. S., P.O. Box 998, St. Marys, ON, N4X 1B6 | Tel: 519-284-2160 | Email: prccsr@town.stmarys.on.ca