School Break Care and Camps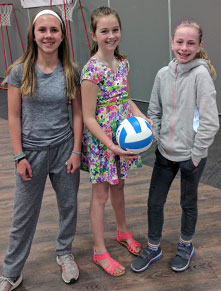 IMPORTANT NOTICE
In-person child and youth programs are gradually being re-introduced. Camp PRC is open for 2021. As the Province of Ontario continues to ease restrictions, we will carefully evaluate how and when to re-open our facilities and offer programs safely and affordably.
We are also offering virtual programming through the Pyramid Recreation Centre Facebook page.
Updates about the status of municipal programs and services will be shared on our COVID-19 page as they become available.
---
The Town of St. Marys offers two types of full day programs for children: a licensed program at the St. Marys Child Care Centre and "Camp PRC" at the Pyramid Recreation Centre. Both programs are designed to keep participants active and engaged during P.A. Days and school breaks. Don't miss your chance to enroll your child in one of these great programs. Daily and weekly rates are available.
St. Marys Child Care Centre - Full Day Licensed Program
Kindergarten to Grade 2
Located at Holy Name of Mary Catholic School (161 Peel Street North, St. Marys)
Early Childhood Educators follow an inquiry-based curriculum, allowing children to direct the program based on their interests. Educators work with children to build skills in all areas of development to ensure consistency during their out-of-school time. Learning areas are available for children to explore daily, as well as project work to examine the children's interests and support learning.
Fees
For pricing please email the Early Learning Supervisor or call 519-284-2340, ext. 500.
Dates
Watch this space for future programming dates.
How to register
Please email the Early Learning Supervisor or call 519-284-2340, ext. 500.
Pyramid Recreation Centre - Camp PRC
Camp PRC is back for 2021!
Town staff are working hard to design a fun-filled summer camp experience, while adhering to the COVID-19 regulations set by the Province of Ontario. This means some of our favourite activities may have a special twist to ensure safety measures are in place, like social distancing. Camp PRC will continue its mission to keep your child happy, active, and engaged with a variety of activities for every interest!
Grades 2 to 6
Located at 317 James Street South, St. Marys
Campers will enjoy full days or weeks of fun with High-Five trained staff. We'll keep your child happy, active and engaged with a variety of activities for every interest! Children are grouped based on age or ability.
Sample activities
Splash-pad fun
Outdoor games
Dodgeball
Archery
Bubble Soccer
Arts and crafts
Scavenger hunts
Science experiments
So much more!
What to bring
Lunch and snack
Bottle of water
Running shoes
Sunscreen and a hat
Any necessary medication
Face masks
Fees
$33.15 per day
$165.75/week/child
$132.50/week/child for the week of August 3 – 6
Dates
Camp begins July 5. For full details on dates and weekly camp themes, visit our Camp PRC page.
How to register
Take me to the registration form.
Questions?
E-mail the Recreation Supervisor, Darcy Drummond, at ddrummond@town.stmarys.on.ca or call 519-284-2340, ext. 626.