Green Initiatives Awareness Program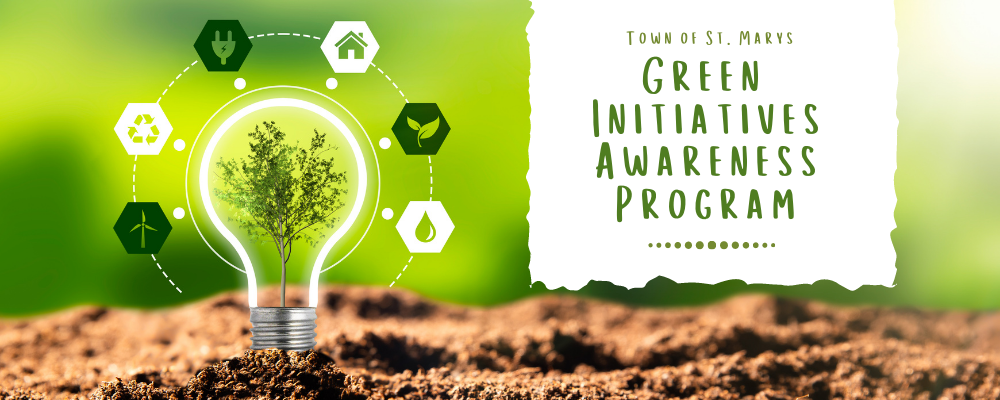 As an organization, the Town of St. Marys is committed to addressing and reducing the effects of climate change in our community and across the globe.
Now we're turning the spotlight on you - through our Green Initiatives Awareness Program. This program was developed by the Town's Green Advisory Committee to highlight our community's efforts to protect the planet and promote sustainability.
---
Program Details
Each year, the Town will ask for submissions from a specific group, based on a specific theme. That group will be asked to share details about an initiative they have undertaken to combat climate change.
We will review the submissions, choose the ones that best fit our criteria, and then share them on our website, in the local newspaper and on our social media accounts.
The next call for submissions will be made in 2024. Watch this page for details!
Read on to learn more about the program.
Submissions
Calls for submissions go out every year in March, with the chosen projects to be celebrated in April, to coincide with Earth Day.
You will be asked to:
Share details about your initiative
Explain your motivation for implementing the initiative
Eligibility
Each call for submissions has a specific theme and targets a specific group.

To be eligible, submissions must:
Come from the specified group
Fit the specified theme
Be based in St. Marys
Criteria
The following criteria will be used to review your submission:
The initiative meets the eligibility requirements (listed above, under Eligibility)
The initiative adapts to/mitigates climate change by reducing emissions and/or waste
The initiative involves an investment of time or money
The initiative is not the result of mandated changes as required by the Province of Ontario or the Government of Canada
Review
Your submission will be reviewed by the St. Marys Green Advisory Committee based on the criteria outlined above. The initiatives that best meet the criteria will be highlighted through the Town's communications channels to celebrate your efforts and inspire change.
Promotion
If your initiative is selected by the review panel, it will be featured:
On the Town website
In the St. Marys Independent Newspaper
Through Town social media channels
Other promotional activities and channels may be considered on a case-by-case basis.
Featured Initiatives
2022
In March 2022, we asked local small business to share details about an initiative they have undertaken to reduce waste – and they responded. The businesses below are making concerted efforts to combat climate change in unique and innovative ways.
The Flour Mill Shop
Reduces waste by:
Using glass containers and offering a discount on refills
Partnering with suppliers that use glass containers
Using recyclable or compostable packaging
Ordering in small batches and having a flexible menu to avoid food waste
Delivering produce scraps to a neighbouring farm
The Flower Shop & More
Reduces waste by:
Taking all soil, flowers and plant clippings to the Town's Yard Waste Drop-off Depot
Reusing yard waste bags
Reusing all packing/ shipping materials and/or sharing them with other businesses
Allowing customers to bring back vases/containers to be refilled, reused or donated
Snapping Turtle Coffee Roasters
Reduces waste by:
Partnering with Petals & Foliage to turn used coffee grounds into premium compost and soil
Serving guests with reusable ceramic mugs
Encouraging take-out customers to bring reusable containers
Using compostable cups, lids sleeves and straws made from sustainable paper and plastics
Stone Home Creatives
Reduces waste by:
Buying products from local artists to reduce emissions and avoid extra packaging
Reusing packing material for shipping items to customers
Offering refillable candles, with refills available in compostable packaging
Running "refill days" for customers to bring containers from home and create their own candles
Contact
Jed Kelly, Director of Public Works
519-284-2340 ext. 244
jkelly@town.stmarys.on.ca