St. Marys Station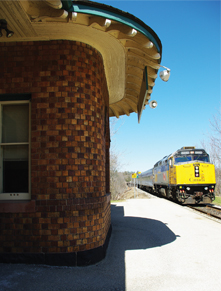 GO and VIA Train passengers are encouraged to purchase tickets online. A self-service computer for purchasing tickets is available at the station. A customer service attendant is available to assist and print tickets for passengers during the hours listed below.
Service Desk Hours
Day
Time

Monday to Friday

5:45 – 6:45 am (GO travel)

10:15 – 11:15 am (VIA travel)

7:00 – 9:00 PM (GO and VIA travel)

Saturday and Sunday

10:15 – 11:15 am (VIA travel only)

8:00 – 9:00 pm (VIA travel only)
VIA Rail Canada
VIA train service runs seven days a week at 10:46 am and 8:20 pm. VIA Rail tickets may only be purchased and/or printed at the customer service desk during operating hours.
Reservations and tickets: 1-888-842-7245
TTY: 1-800-268-9503
Customer Service: 1-800-681-2561
Website: www.viarail.ca
GO Train Service
The GO Train provides regular weekday travel between London and Toronto, including stops in St. Marys and Stratford. It runs Monday to Friday from St. Marys at 6:13 a.m. eastbound and 7:27 p.m. westbound.
Website: GO e-tickets
A complete schedule, route details, ticket options and fares can be viewed at gotransit.com.
St. Marys Station Gallery
Enjoy the art exhibitions in the St. Marys Station Gallery. Learn more at the St. Marys Station Gallery website or on Facebook.