Accessible Transportation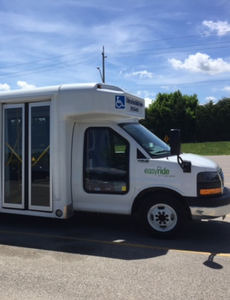 St. Marys & Area Mobility Services is a member of EasyRide - a transportation service shared by Community Support agencies across Huron and Perth counties. By teaming up and sharing our vehicles and drivers we are able to offer frequent and flexible service.
The service provides accessible and volunteer transportation to medical appointments, adult day programs, social excursions, and local errands. Services are available for seniors, individuals recovering from illness or injury and those with varying abilities. Door-to-door service is available 7 days a week and booking hours are Monday to Friday 8:30 a.m. to 4 p.m. For more information or to book your ride call 519-272-9875 or toll free at 1-877-500-9875.
Last year St. Marys and Area Mobility Services provided well over 13,000 trips!
Official Website: https://www.stmarysmobility.com/
Trip Reminders
Book a minimum of one day in advance. Same day requests may be accommodated!
Transportation may include volunteer drivers, accessible bus or van, or taxis.
Upon booking, you'll be required to have complete trip details including time of pick-up, exact drop-off address, if a companion will be travelling with you, etc.
Service Prices
In-town trips are a $5.00 flat rate
Out-of- town trips are a per km rate
Wait time charges may apply as do charges for extra stops along the way
Charter rates are available
*Please note prices may vary
Wednesday Morning Shopping Service
Group shopping aboard the St. Marys & Area Mobility Bus
Pick-up and drop-off at your door and only $5.00 per person
Stops at McDonald's Independent Grocer, Foodland, and downtown
Spaces are limited so we ask that you book in advance
Stratford Shopping Trip
First Monday of each month (statutory holidays - trip moves to the following Monday)
Drop off at Festival Marketplace at 10AM and return at 3PM and only $12 per person
Spaces are limited so we ask that you book in advance
Partner Agencies
St. Marys & Area Mobility Services and Senior Services
Mitchell & Area Community Outreach and Mobility Bus
ONE Care
VON Perth-Huron