Section of Queen Street to be closed on June 24 for asphalt repairs
A section of Queen Street East will be closed on Friday, June 24 from 7:00 a.m. to 5:00 p.m. for asphalt repairs. A detour will be set up using Brock Street South, Jones Street East and St. Andrews Street South.
Motorists are reminded that the following roads remain closed due to sanitary sewer replacements:
Huron Street South between Queen Street East and Elgin Street East
Elgin Street East between Brock Street South and St. Andrews Street South
Work on the sanitary sewer replacement is moving into the final stages, with concrete and curb repairs and asphalt restoration expected to take place over the next two to three weeks.
Map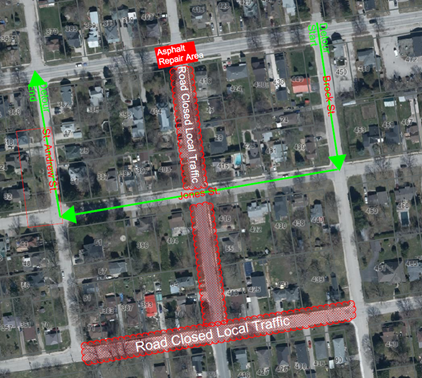 Contacts
Erica Martin-Coddington | Public Works & Planning Assistant
519-284-2340, ext. 221 | ecoddington@town.stmarys.on.ca
Jed Kelly | Director of Public Works
519-284-2340, ext. 244 | jkelly@town.stmarys.on.ca
Dave Blake | Environmental Services Manager
519-284-2340, ext. 209 | dblake@town.stmarys.on.ca