WinterLights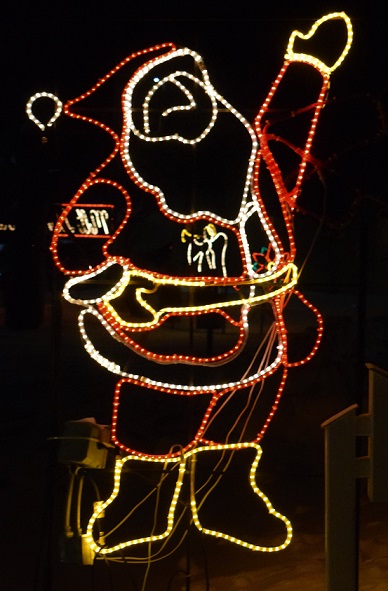 Each year in mid-November (date TBA), Milt Dunnell Field (also known as The Flats) comes alive with animated light displays, including nativity scenes, dinosaurs, reindeer and more from 5 to 11 p.m. nightly.
Enjoy the display on foot or by car -- or by horse-drawn wagon rides on select weekends -- donations are always appreciated as you wait by the sponsor sign for your turn! Parking is available at the north end of Milt Dunnell Field. Please note that there are two steps of average height into the wagon.
WinterLights relies on community support to keep the Christmas season bright -- add your name to a list of community-minded organizations and individuals!
Your donation of $20 or more is eligiable for a tax reciept, plus inclusion on various promotional materials.
Donations can be dropped off at the lower level Church Street entrance of Town Hall or mailed to:
Town of St. Marys
Attn: Events Coordinator
Box 998, 175 Queen St. E.
St. Marys ON N4X 1B6
"Waving Santa" (photo at right) is also happy to accept contributions as you exit Milt Dunnell Field. Please note that tax receipts cannot be provided unless name and address is included with your donation.
New displays -- 2019
A Shark's Tale - In memory of Doug and Marna Fletcher
Hot Air Balloon - The Reid Dundas Team, A-B Realty Inc. Brokerage
Major Sponsors
Kinsmen Club of St. Marys - general sponsorship (Sweet Santa Suite raffle proceeds)
Festival Hydro - Lions Park expansion
Annual maintenance sponsorships
Large Displays
Tradition Mutual Insurance - Castle (Founder: St. Marys Kinsmen)
St. Marys Lions Club* - Lions and sea dragon
Vet Purchasing *- Barn with farm animals
Rotary Club of St. Marys* - Santa and ski slope
Thames Crest Farms - Dinosaurs (Founder: St. Marys Lions)
Inoac - Santa's Sleigh (Founder: Valu-Mart)
Trouw Nutrition - Truck, Train and Caboose (Founder: Robica)
Medium Displays
St. Marys Landscaping* - Leaf and logo
Finnie Distributing - Horse and carriage (Founder: Royal Bank)
Hubbard Pharmacy - Season's Greetings Sign (Founder: St. Marys Kinsmen)
IG Wealth Management - Cinderella's Coach (Founder: WinterLights elves)
Community Living St. Marys - Decorating the Tree (Founder: Norampac)
McLean-Taylor Construction - Elves' backhoe (Founder: Sharp Excavating)
Core Fuels & Red Cap Propane - Animated bells (Founder: Conestoga Rovers)
Kingsway Lodge & Fairhill Residence - Elves, Sleigh, Reindeer (Founder: ANAF Unit 265)
Small
Andrew L. Hodges Funeral Home* - Dachshund with presents
Ashton Tire - Angel (Founder: Town of St. Marys)
Dr. Michael Nixon Dentistry - Tigger, Piglet and Winnie (School sponsored)
Butterfly Pilates - Butterfly (Founder: Thames Label & Litho)
Village Craft and Candle - Candle with leaves at Municipal Operations Centre (Founder: WinterLights Technicians)
Riverside B&B - Tigger and Winnie (Founder: School sponsored)
Canadian Tire - Unicorn (Founder: WinterLights elves)
Barnby Cade - Waving Santa (Founder: Downtown Pontiac)
Bickell Built Homes - Boy pulling tree (Founder: Sam's Home Hardware)
St. Marys Vet Clinic - Blue's Clues (Founder: Early Learning Centre)
Forman Electric - Single red candle (Founder: Union Gas)
Pass It On Store* - Tree and recycling symbol
Kitchen Smidgen - Jack in the Box (Founder: Coldwell Banker)
Partners in Employment - Large Christmas tree (Founder: WinterLights technicians)
St. Marys Cement - Juggling snowman (Founder: Downtown Merchants)
Amy and Patrick Brennan* - Dog Paddling Canoe
Army, Navy and Air Force Unit 265 - Walking soldier (Founder: School sponsor)
Quadro Communications* - Quadro logo with Santa hat
Scotiabank - Santa with Chimney (Founder: Kingsway Lodge)
Central School Manor Residents - Central School (Founder: Central School)
The McConnell Club* -- Canadian flag
Donations
Sun Rayz St. Marys
Kinette Club of St. Marys
Riverside B&B
Cedar Signs Inc.
Kingsway Lodge and Fairhill Residence Giving Tuesday initiative
Inner Wheel Club of St. Marys
Other Founders
Bank of Nova Scotia
Canada Packers/Shur-Gain
Canadian Tire Corp.
Carpe Vinum
Colin Campbell in memory of Bob
Downtown Merchants
Eastern Star
Forman Electric
Hicks Family
Holy Name of Mary School
Homecoming St. Marys
Horticultural Society
Hubbard Pharmacy
I.O.O.F. St Marys
J. M. Schneider-Lou Cappa
Jackson Pharmacy-Stonewillow Inn
McConnell Club
McKinley Hatchery
Monteith, Monteith Co.
Paul Smith
Perth South School/Tom Bishop
Robica
Royal Bank
Sam's Home Hardware
Solis Foods, New Orleans Pizza
St. James Lodge
St. Marys Cement
St. Marys BIA
St. Marys DCVI
St. Marys Kinsmen Club
St. Marys Lions Club
St. Marys Volunteer Firefighters
Stonetown Florists
Stonetown Food Market
Town of St Marys
Trish Edye