WinterLights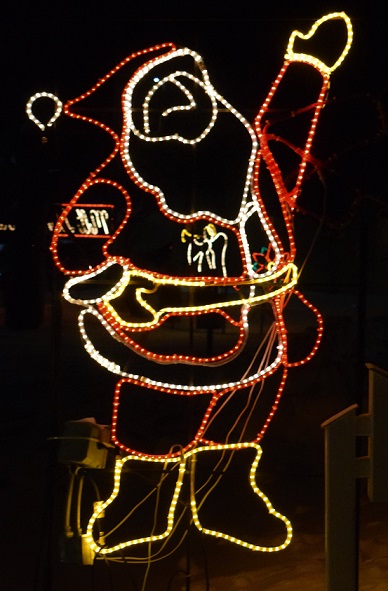 Annually, our Milt Dunnell Field (also known as The Flats) comes alive with animated light displays, including nativity scenes, dinosaurs, reindeer and more!
The display will be illuminated on Friday, November 19 and it will be lit nightly from approximately 5 to 11 p.m. nightly until Sunday, January 2, 2022. Thank you to all our display sponsors below for keeping the Christmas season merry and bright for our community.
Touring the display by foot or by car is a safe and wonderful way to experience the magic of the holidays. If on foot, please remember to socially distance -- at approximately four acres, there's plenty of room for everyone!
"Waving Santa" (photo at right) is happy to accept cash contributions as you exit Milt Dunnell Field. Please note that tax receipts cannot be provided unless name and address is included with your donation.
Holiday Home Tour now available!
Complement your WinterLights visit by touring fabulously decorated homes in St. Marys and area! Simply download and print the map (on legal-size paper) or pick up from select municipal facilities. The tour is also available on the free Driftscape app.