Virtual Programs and Resources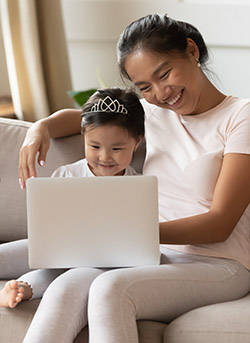 In an effort to continue to offer our dynamic programs in a safe manner, the Town of St. Marys offers a wide variety of free virtual programs and resources. These programs are offered online and by telephone, and are appropriate for children and youth, adults and seniors.
For program descriptions and links to weekly schedules, please see the information below.
Young Children (infant to age 6) and Families
EarlyON Programs
EarlyON Child and Family Centre offers meaningful, engaging and free programs that teach you and your children through play and active learning.
To see our weekly schedule, visit our EarlyON webpage. EarlyON video playlists featuring demonstrations of weekly activities are available on the EarlyOn Facebook page.
St. Marys Public Library Services
The St. Marys Library offers free Storytime and Kid's Trivia videos weekly at the Pyramid Recreation Centre's Facebook page.
Adults and Seniors
Telephone Programs
The Friendship Centre at the Pyramid Recreation Centre offers free programs over the phone throughout the week including: Fit at Home, Social Hour, Men's Coffee, Travelogues, Short Stories, Recipe Sharing, Friday Fun and Virtual Scrapbooking.

For a schedule of these activities visit the Friendship Centre page.
Online Fitness Programs
Senior Services provides free, online gentle and group fitness classes to help prevent falls, develop strength and boost heart health.

To participate, please register, and you will be provided with a link to access the class. Fitness videos are also available at the Pyramid Recreation Centre Facebook page and Friendship Centre Facebook page.
St. Marys Museum
The St. Marys Museum offers free weekly virtual tours of the Town and the Museum.

Videos of these tours can be accessed through the Pyramid Recreation Centre Facebook page. Weekly lectures can be accessed through the telephone or on Zoom videoconferencing. Visit the Friendship Centre page for more information on times and how to connect.
St. Marys Public Library Services
The Library offers a number of free online resources for cardholders. Come into the Library anytime during open hours to sign up for your free library card.



Download Library grants access to the Library's collection of e-books and audiobooks for use on iPads, tablets, smartphones, KOBOs and more.
Photo Gallery: Virtual programming will appear here on the public site.