Summer Program 2021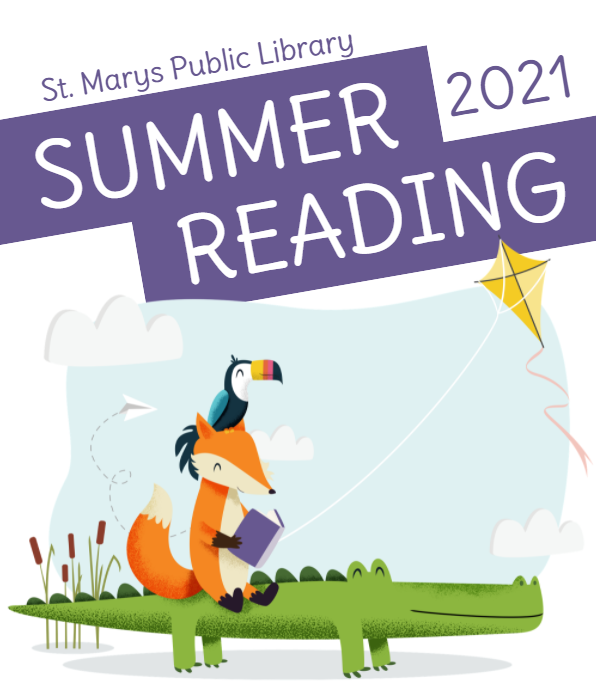 July 5th to August 27th
As we continue to observe COVID-19 restrictions, the 2021 summer program will be completely virtual. This summer's program will run from July 5th to August 27th. Our online programs will be hosted on YouTube, Facebook, and live through Zoom. We are excited to announce that we will be offering weekly activity kits. These kits will include activities and crafts that will link back to virtual programs hosted by our Summer Program Coordinator.
New to the Summer Program this year is our Beanstack reading tracking software. Beanstack allows patrons of all ages to track their reading, review books, earn badges and more. This summer, we will be offering weekly prizes, a grand prize, and three exciting prize bags to kids who participate in tracking their reading. Beanstack can be used in a web browser or through the easy-to-use app for android or apple.
We recommend you sign up for our newsletter subscription list so you never miss a sign up date and receive updates about the program.
Find more information about the weekly activity kits, virtual programs and Beanstack reading tracking in the table below.
Weekly Activity Kits
This year's weekly activity kits are curated for two different age groups and correspond with online programming to that takes place throughout each week. Jr kits are geared toward kids 6 and under and Sr. kits are geared toward 7+.
Each kit includes a craft activity (called Magic Carpet for Jr kits), a STEAM activity and the option of included books. Each week, we will put out a link to the kit sign up form on our Facebook page and in our summer newsletter. The deadline to reserve a kit for the following week is Wednesday night at 8pm.
If you are signed up for a kit, you will receive an email confirmation from library staff. Please pick up your kit for the following week on Fridays (10:30am-5:00pm) or Saturdays (10:00am-4:00pm).
We recommend that you sign up for our Summer newsletter list to get reminders and notices about kit sign up and to receive kit information each week.
We understand that life happens. If you sign up for a kit and you're unable to pick it up, please let us know by calling 519-284-3346 or emailing summerreading@stmaryspubliclibrary.ca. If you fail to pick up your kits by the specified date without notice, you will not be eligible to sign up for further kits. These kits are in high demand and we need we make every effort to ensure that everyone has equal access.
Virtual Programs
Each week, a variety of programs will take place virtually (as seen in the weekly calendar below). When you register to pick up a kit, you will be registered for the corresponding Zoom programs and sent a link to join the program.
For example, when you register for a Jr kit, you are required to leave your email address and that is where you will receive the Zoom invitation to join the Jr Magic Carpet program.
Other virtual programs include Trivia, STEAM (science, technology, arts and math) activities, and Craft tutorials which will take place directly on our Facebook page and on our Youtube Channel at the times stated below.
Craft Programs
Jr kids will join our Summer Program Coordinator on Zoom each week for an exciting Magic Carpet Ride where they'll explore new locations and make a craft together.
Sr kids can tune into the Library's Facebook or Youtube channel to follow along with the weekly craft activity.
STEAM Activities
These sessions are based on the acronym STEAM (science, technology, engineering, art, and math) and encompass learning-based play that is exciting, fun, and educational.
Each week, Jr kids will tune into the Library's Facebook or Youtube channel to follow along with the weekly STEAM tutorial.
Sr kids will joins our Summer Program Coordinator on Zoom for a fun and interactive STEAM session.
Trivia
Join our Summer Program Coordinator each Tuesday for a live trivia game on the Library's Facebook page. Each trivia game will be centered around the weekly theme. There is a $5 Tim card up for grabs each week just for playing along and sharing your guesses in the comments section!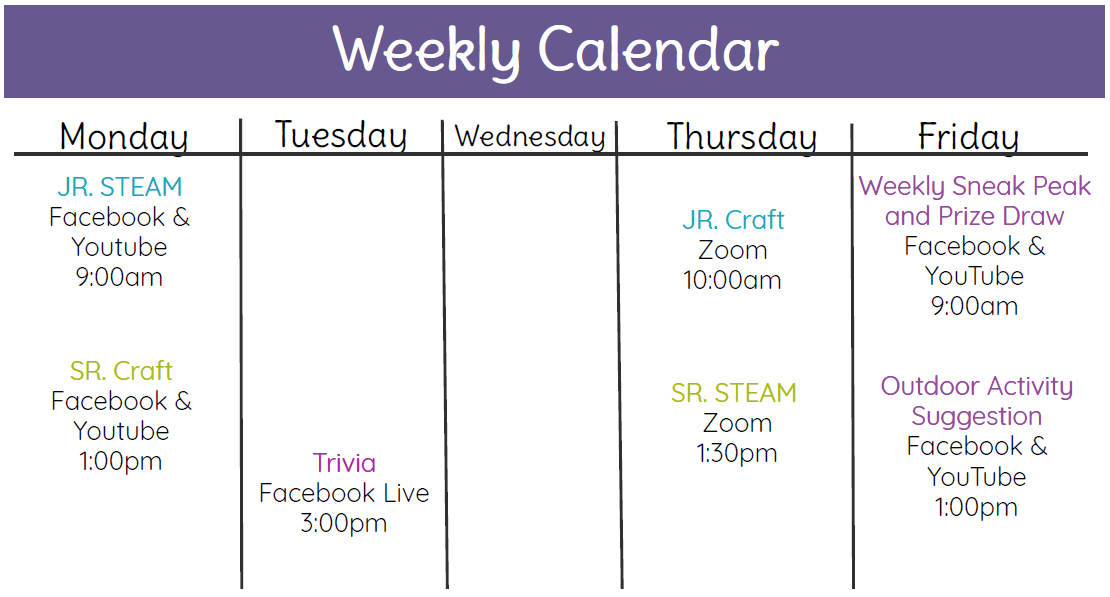 If you have any questions or concerns, please call the Library at 519-284-3346 and ask for Rebecca or email summerreading@stmaryspubliclibrary.ca
Summer Program Reading Challenge (Reading Tracking)
Each year, the Library encourages kids to track their reading for a chance to win prizes. This year, we are providing three different opportunities to win prizes in the hopes that children will be encouraged to read, and maintain their literacy skills over the school vacation. All reading tracking will be done through the Library's new software called Beanstack.
2021 Summer Program Prizes
Just for completing 1 hour of reading (for Jr kids) or 2 hours of reading (for Sr kids) each week, children will be entered a weekly prize from the Library's prize display case- think LEGO sets, crafter kits, electronics and more!
Grand prize draws will happen at the end of the Summer Program and draw tickets will be earned by reading throughout the summer. The more a child reads, the more chances they have!
Finally, Milestone bags will be given out as children reach reading milestones. Jr participants will need to read 5 hours to get the first Milestone bag, 10 hours to get the second, and 15 hours to get the third. The Sr participants need to read 10 hours, 20 hours, and 30 hours to earn each of their three bags. Each milestone bag has a gift card or voucher to a local business and some really awesome special activities.



Learn about Beanstack:

Beanstack allows kids (and adults too!) to track their reading, review books, earn badges, and more! Beanstack can be used in a web browser or through the easy-to-use app for android or apple. This means that tracking can be done anytime and there are no more paper log sheets. Make sure you sign up your child(ren) now and pre-register for the Summer Program Reading Challenge today so you don't miss out. Start tracking your reading now to practice AND earn tickets to win some pre-summer prizes! Don't forget, adults can sign up to for chances to win their own prizes; each month, we give away a $30 gift card to one lucky adult participant. Once you've signed in to Beanstack, you'll see the available Library reading challenges. There are two levels of Summer Program reading tracking: Jr- aimed at kids 0-5years, and Sr- aimed at kids 6-12years. Please choose the one that you feel suits your child(ren)'s reading level. Remember this is a reading "challenge". Therefore, if you or a Library staff member notice a child would be better suited to the other challenge, we would recommend, and are able to switch the participant.