Pollinator Garden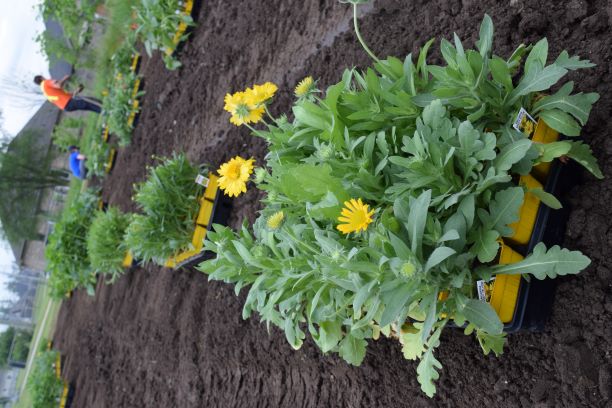 Town of St. Marys First Pollinator Garden!
In 2021, the Town of St. Marys planted our first Pollinator Garden! It is also commonly referred to as a Wildflower Area. It is a 165 square metre garden area located within the St. Marys Cemetery and adjacent to Sparling Bush. Types of flowers initially planted include Black-eyed Susan, bergamot, coreopsis, purple coneflower, white coneflower, sedum, balloon flower, butterfly milk weed, and blanket flower. This is a pilot project and will help us make informed decisions regarding future additional pollinator gardens. Throughout 2021, Town Staff will monitor this garden and anticipate that the plants will reach full growth in 2022.
The TD Friends of the Environment Foundation has generously sponsored the creation of this pollinator garden.
Colouring Contest Fun!
From June 15 to June 21, 2021, we held a colouring contest to celebrate the start of our Pollinator Garden! Winners received one of three fun prize packs including a six piece set of kids gardening tools, a hand held hummingbird feeder, bright flower pot, gummy treats and wildflower seeds!
We had almost 50 creative entries including one large project from the St. Marys Emergency Child Care.

What are the benefits of a pollinator garden?
A beautification method and amenity along the Town's trail network
Support dwindling populations of native pollinators including butterflies, moths and bees, helping to sustain insects that pollinate food crops. This is particularly important in increasingly built up environments.
Act as a habitat for various animals and insects including caterpillars, spiders, birds, frogs, newts, toads and other small animals.
It cleans the air! Plants consume carbon dioxide and create about ten times more oxygen than they use.
It can help control unwanted bugs. Birds, bugs, and bats that a pollinator garden may attracts will eat problem bugs. Having a diverse assortment of plant life in your garden will help ensure that no single pest takes over.
Photo Gallery: Pollinator Garden will appear here on the public site.