Business Resources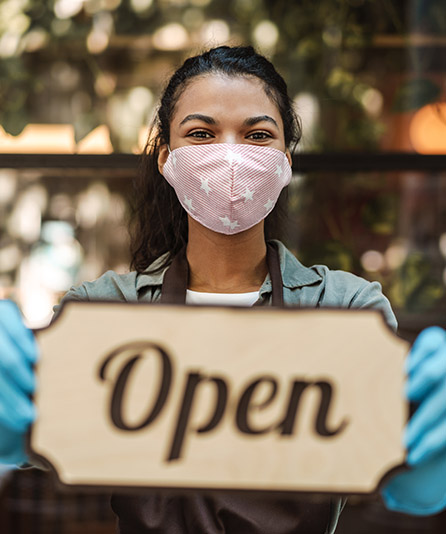 The COVID-19 pandemic has created a number of challenges for local businesses. Below are a list of Town-led and external resources designed to assist business owners during this difficult time.
You can support our business community by shopping and dining locally as much as possible. Check out our COVID-19 Business Directory for a comprehensive and up-to-date list of St. Marys-based shops, restaurants and services.
Business Economic Support and Recovery Task Force
The Business Economic Support and Recovery Task Force was established in May 2020 as part of our efforts to address the financial issues caused by COVID-19. The committee advises Town Council on matters related to local businesses and the impacts of the pandemic. Its primary focus is supporting the St. Marys business community throughout and after the outbreak has ended.
Initiatives
COVID-19 Business Grant Program
The task force has launched a new grant program to assist businesses impacted by COVID-19. The program provides up to $3,000 to eligible businesses.
You can apply by filling out our convenient, online form, available below. Applications must be submitted by Friday, November 27, 2020.
COVID-19 Business Grant Application Form
Which businesses are eligible?
To be eligible for the program:
The business must be located within the Town of St. Marys
The business must demonstrate that it has been financially impacted by COVID-19 (e.g. through reduced revenues, increased expenditures, closures, etc.)
How must the money be spent?
The grant funds must be used to assist with the extra financial burdens faced by the business due to COVID-19.
The impact of COVID-19 has been different for every business; applicants will be asked to specify how these funds will be utilized in relation to their COVID-19 needs. Grant applicants that have/will spend the funds locally will be given preference.
How can I apply?
Interested businesses should complete and submit the online application by Friday, November 27, 2020.
How are the applications being evaluated?
All applications will be evaluated by the Town's selection committee. The selection committee will consider the following:
The eligibility of the applicant
How the business has been impacted
The benefits provided by the use of funds, both to the business and community
When will I find out if my business is successful?
Businesses will be notified on or before December 1, 2020 if their application was successful. Grant funds will be provided during the first week of December.
Who do I contact if I have questions?
Questions about the program can be directed to Kelly Deeks-Johnson, Tourism and Economic Development Manager at kdeeks@town.stmarys.on.ca. or 519-284-2340, ext. 272.
Members
The task force is made up of five local business owners (Sue Griffiths, Ed Parkinson, Allan Stewart, Scott Taylor, Greg Thompson); two members of Council (Councillor Rob Edney and Mayor Al Strathdee); and two staff liaisons (André Morin, Director of Finance/Treasurer and Kelly Deeks-Johnson, Tourism and Economic Development Manager).
Meetings
Committee meetings are live streamed on the Town's YouTube Channel for public viewing. A schedule of meetings, agendas and minutes are available on our Council and Committees Calendar page.
Financial Relief
We continue to offer financial relief to businesses and individuals that have been impacted by COVID-19. Those requiring assistance are encouraged to contact André Morin, Director of Finance/Treasurer by phone (519-284-2340, ext. 217) or email. Help will be provided on a case-by-case basis.
External Resources
The following links offer COVID-19-specific and general assistance for businesses.
The Government of Canada
The COVID-19 Economic Response Plan will provide up to $27 billion in direct support to Canadian workers and businesses. This includes:
Temporary wage subsidies for small businesses
A Business Credit Availability Program (BCAP) to help businesses obtain financing during this period of uncertainty. The BCAP will support access to financing for Canadian businesses in all sectors and regions through:
Updates on changes to the Canada Revenue Agency (CRA) services, due dates and programs affected by the pandemic
Augmenting credit available to farmers and the agri-food sector through Farm Credit Canada
Flexibility in the Canada Account limit to allow for additional support to Canadian businesses in exceptional circumstances
Enhancing the Work-Sharing Program to help employers who are experiencing a downturn in business due to COVID-19, and their workers
The Canadian Emergency Rent Subsidy Program (CERS), which helps cover commercial rent or property expenses for businesses, non-profit organizations and charities that have seen a drop in revenue due to COVID-19
Employment and Social Development Canada (EI): Service Canada has made some changes to how you access their services.
The Province of Ontario
The Province's main page for COVID-19 information is an excellent starting point to learn how the Ministry of Health is helping to keep us safe during the Novel Coronavirus outbreak. Find out how to protect yourself and how to recognize symptoms.

Ontario's Action Plan: Responding to COVID?19 outlines the government's $17 billion response to ensure our health care system, communities and economy are positioned to weather the challenges ahead.

Ontario Together: The Ontario government welcomes help from businesses, researchers and organizations who can supply emergency products and innovative solutions to support our response to COVID-19. If you make a submission though Ontario Together, please notify MPP Randy Pettapiece: randy.pettapiececo@pc.ola.org

FedDev Ontario delivers programs and services catering to economic development in Canada and helps to address key economic challenges. Locally, business can reach out to Fed Dev Ontario offices for more information at 1-866-593-5505.


The Main Street Relief Grant for Personal protective equipment (PPE) provides up to $1,000 for PPE costs to eligible small businesses across Ontario with 2 to 9 employees.

The Province is also offering Property Tax and Energy Cost Rebate Grants for businesses that were required to shut down or significantly restrict services due to provincial public health measures (modified Stage 2 restrictions or, going forward, in areas categorized as control or lockdown). This application-based grant provides a rebate to eligible businesses in respect of property taxes and energy bills.
Stop the Spread Business Information Line: Call Ontario's Stop the Spread Business Information Line at 1-888-444-3659 if you have questions about temporary measures, including closures and essential workplaces.

Consumer Protection Ontario: If you're aware of anyone charging higher-than-usual prices for in-demand products, call Consumer Protection Ontario at 1-800-889-9768.
Local and additional business resources
Mental health resources
The Canadian Mental Health Association offers tips to respond to employee anxiety and dedicated mental health support for members of the agricultural industry.
Free mental health support for local businesses: thanks to a multi-business partnership with the United Way, Family Services Perth-Huron will provide one-on-one, confidential support. Existing clients of the Centre for Business & Perth CFDC will be provided the information directly via email/newsletter. Any owners/entrepreneurs whom are not yet clients can reach out to

Call Family Services Perth-Huron directly 519-273-1020, ext. 108
The direct extension will be provided by Family Services Perth-Huron to the entrepreneur – no personal details need to be provided to the Business Advisory staff in order to access the program.
Stay informed
Service changes and other relevant municipal information will be regularly updated on our COVID-19 page, as well as on our Facebook, Twitter and Instagram accounts.
Huron Perth Public Health is the authority for public health concerns. Updates are frequently posted on its website, and it can be followed on Facebook and Twitter.
The Province of Ontario's COVID-19 landing page has links to businesses resources, press releases and more.
The Federal Government's COVID-19 pandemic page has a variety of practical information.