Homeowner Applications, Licenses and Permits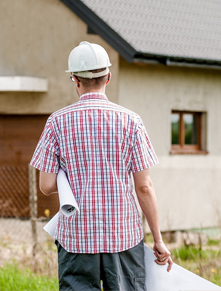 Building Permit Application
This permit application is used for all types of construction governed by the Building Code, including renovation work, heating, ventilation and air conditioning, plumbing, and swimming pools.
Applications for Building Permits are accepted through Cloudpermit, an online tool that allows you to see the status of your application anywhere, any time. Please visit our Applications, Licences and Permits webpage for further instructions on how to use Cloudpermit (instructions can be found under the Building Permits tab).
For more information please contact Jason Silcox, Building Inspector
Pool Permits
All new pool installations require a pool permit through the St. Marys Building Department and must meet the following requirements:
All pools in St. Marys must be enclosed by a minimum 5'-0" fence.
All gates in the fence must self close, self latch and be able to be locked.
Pool fences such as chain link, wood, or metal iron are restricted to having opening no more than 1.5".
If you have an above ground pool and don't want to install a fence around your property, the side of the pool must not be less than 4'-0" and the guard above the side of the pool must be at least 3.3' in height.
If you are removing your old pool fence and installing a new fence you will need submit an application for swimming pool fence permit through Cloudpermit. All owners of pools are obligated to maintain their fences and gates to the Town's Pool By-Law.
Energy Efficiency Design Summary
Both of the following forms are used by designers to demonstrate that the energy efficiency design of a house complies with the building code.
Façade Improvement Program Application
The façade improvement program is intended to encourage property owners and merchants within the Central Commercial District (CCD) to undertake building façade improvements to refresh the look of the core area. These improvements will respect and be in keeping with the historic nature of the area.
Heritage Grant Application Package
The St. Marys Designated heritage property grant program is available to owners of heritage designated properties in the Central Commercial District in order to help them in the conservation and preservation of our built heritage resources. To be eligible a property must be designated under the terms of the Ontario Heritage Act as an individual property or be located within a heritage conservation district.
Heritage Permit Application
Prior to the receiving any building permit or site plan approval in the Heritage Conservation District, the property owner will contact the Planning and Zoning Department to determine whether a Heritage Permit will be required. If it is required a heritage permit application will need to be submitted.