Picnic project
Looking for a creative spot for a meal or snack?
This May, a call was put out to the community to decorate 10 tables as a means to encourage take-out dining and safer social gatherings.
Our artists have delivered us 10 unique tables with designs ranging from abstract to scenes of St. Marys to not-so-mythical creatures. Find six at the south end of Milt Dunnell Field, two near Town Hall and the Cenotaph, and two at the picnic area near the Quarry.
This initiative is supported by a grant from the Annie and Isabelle Chesterfield Fund, held within the Stratford Perth Community Foundation.
Learn more about these fabulous tables and the talent and inspiration behind them by clicking on a location below.
Milt Dunnell Field
Artist: Jaci Henderson/HMCreations Photography and Art
My main objective with this project was to bring smiles to people's faces. It was important to me to incorporate three of my favourite things: my art, my photography and my home town. The majority of the artistic designs on this table are representations of my past paintings.

When I look at this table it brings back a lot of happy memories for me and in turn I hope that the time spent sitting at this table will create many happy memories for those who visit.

For more of Jaci's work, visit her site.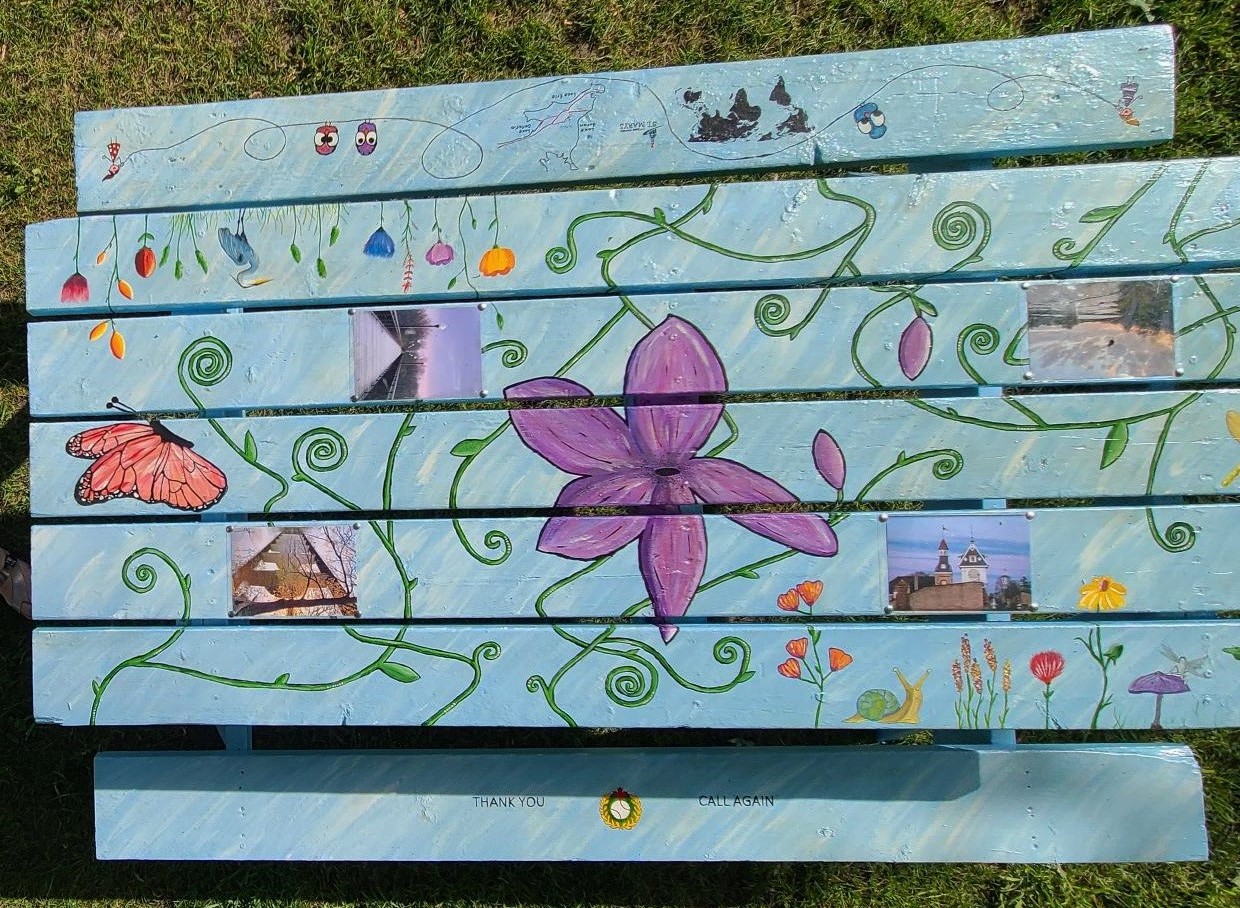 Artist: Laura McAsh
Being born at the St. Marys Memorial Hospital, having attended Central School, Arthur Meighen, and D.C.V.I., and working at the St. Marys Public Library, it is easy to say that the beautiful little town of St. Marys, Ontario is literally a part of who I am. An amateur visual artist, I jumped at the chance to participate in the Picnic Table Project to help encourage residents and visitors alike to shop and stay downtown this summer. I wanted my table to accomplish two objectives: be something nice to look at while also being engaging. I quickly arrived at the idea of a board game that incorporated notable landmarks across town.
To play the game, one needs only a small object to act as a token on the board and something to toss on the wheel to determine how many spaces to move on your turn. The landmarks players will "visit" are the Quarry, the Baseball Hall of Fame and Museum, the falls, the Grand Trunk (Sarnia) Bridge, the Flats/Milt Dunnell Field (specifically the Farmers' Market), the Museum, the Arthur Meighen statue in Lind Park, the Library, the Town Hall, the Train Station (specifically the Station Gallery), the old water tower, and the Pyramid Recreation Centre. The spaces on the game board are limestone blocks, paying homage to the reason we are so named the "Stonetown".
I hope table visitors will enjoy eating and playing at it as much as I enjoyed planning and painting it.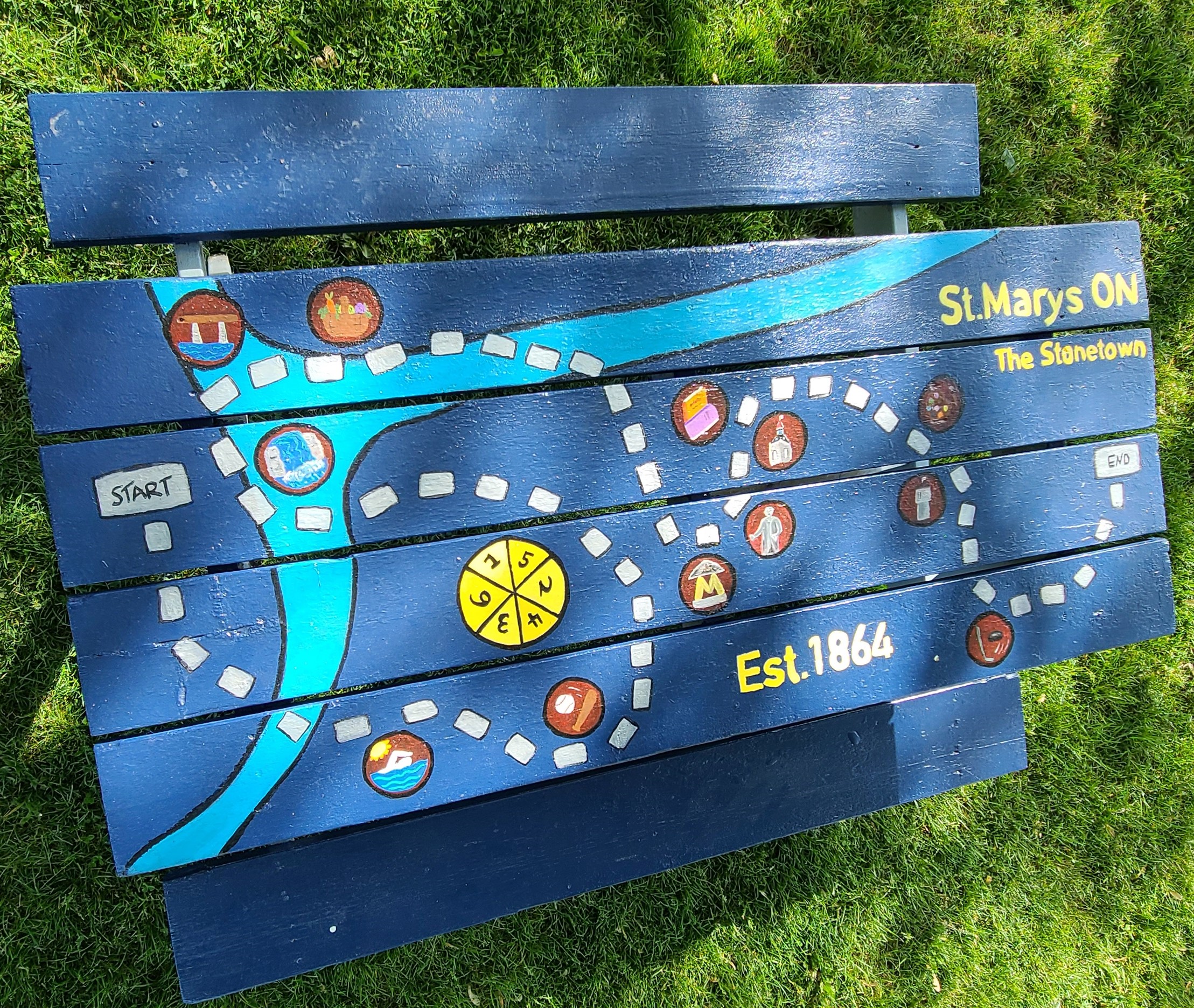 Artists: Dianne and Casey Downing
We volunteered to paint a table because we wanted to do a project together in these COVID times and create something that was eye-catching and that could brighten someone's day. We decided on a 70s theme for the picnic table because we could incorporate positive words and bright colours into the design and have a piece that would appeal to all ages. We hope everyone enjoys it and gets a chance to use it for a picnic or a pleasant place to rest.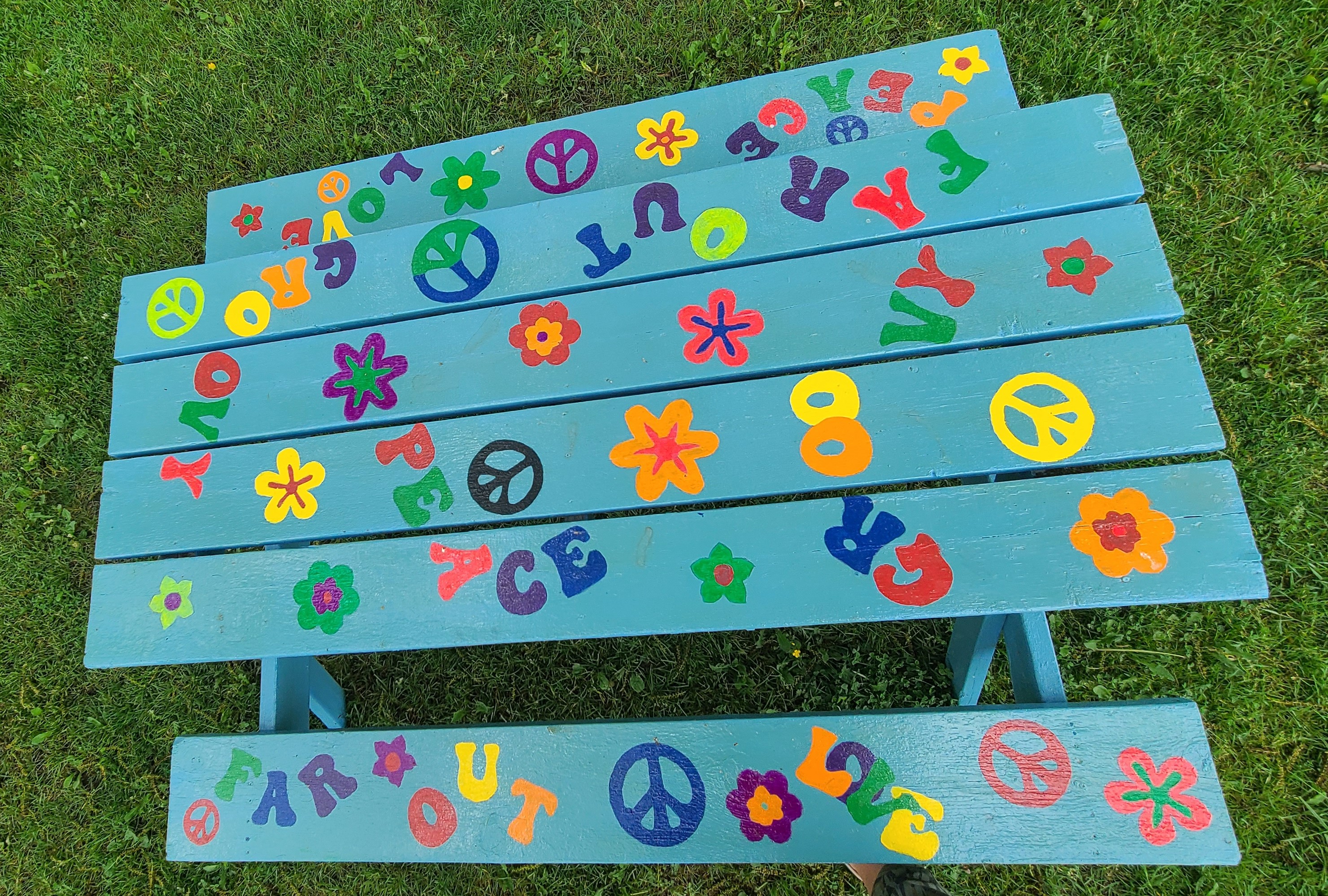 Artist: Mandy Verge
Life's a little different for us all... and sometimes it's just about making little pockets of joy in everyday ways! Unexpected smiles, inspiration and hope is what I wanted to bring into our local community for everyone to enjoy in their own way. Something colourful, bright and cheerful you could see from afar - yet, something you can take in and feel welcomed to approaching, regardless if you are a family group, friends meeting up or a solo walker looking to ponder and enjoy nature.
This table was intentionally made to bring a little sunshine and support for everyone and couldn't have been possible thanks to the ones I love and who have supported me through life's challenging times.
It has all meant the world, and I couldn't be happier to help share the ripple of kindness with others.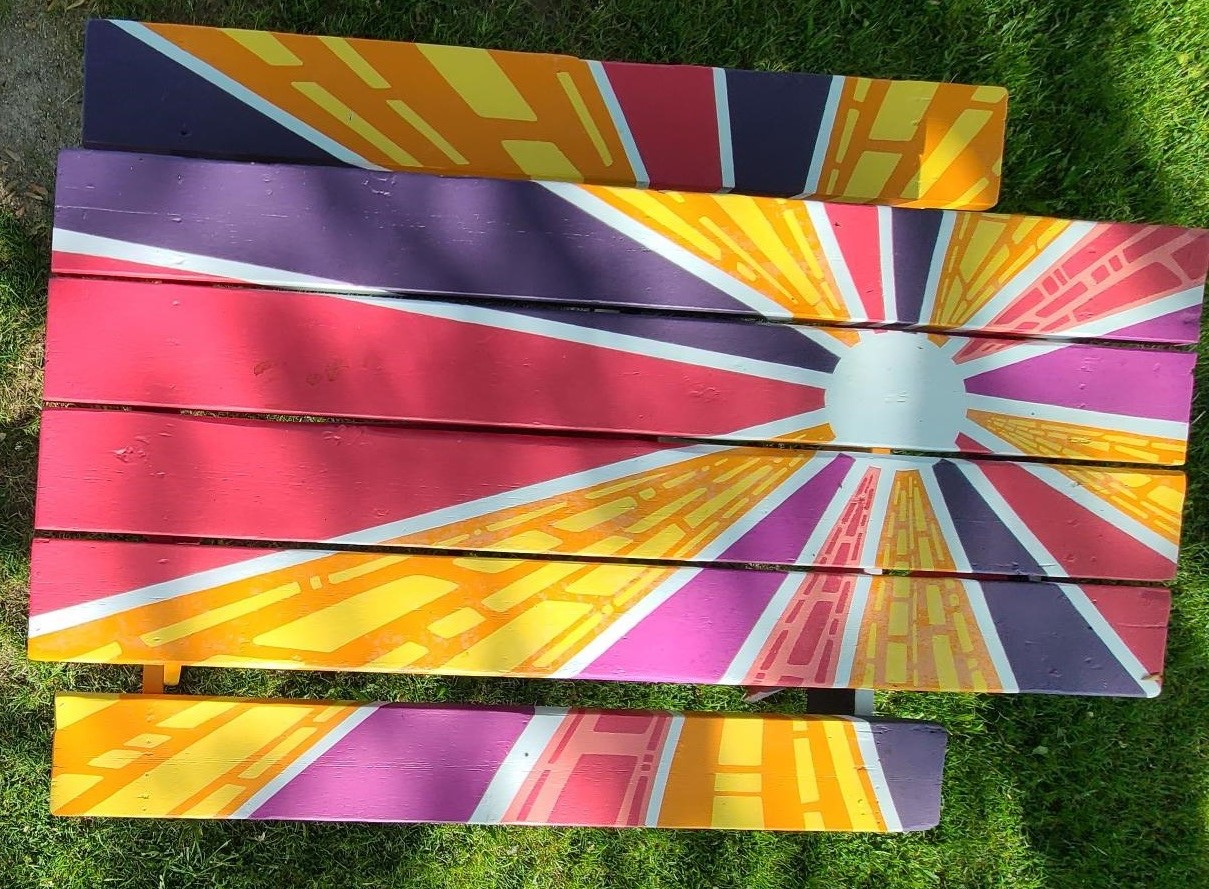 Artists: Aimee Jesso and Chet Greason
Last summer we couldn't get together with our friends and family, but we could see them out on the river aboard personal crafts. We purchased an elaborate inflatable unicorn so we could lazily drift as our fellow floaters zipped along on their canoes, kayaks, and paddleboards.
We later found out it was technically an alicorn - or pegacorn - as it has wings as well as a horn.
The alicorn proved a hit. We named her Tallulah. She inspired a weekly regatta ( a series of boat races) and she was the mascot for last year's aquatic arm of the Terry Fox Run. She even has her own Spotify playlist of summery, feel-good tunes called Tallulah Jams.
This year we're looking forward to another summer of inflatable fun on the river. We decided to paint our picnic table like our alicorn, with big sultry eyes, golden wings, and a rainbow mane down the centre.
We're not yet sure if relaxing in the sun on a wooden, land-based alicorn will result in the same giddy thrill as lounging in a plastic, floating one, but we sincerely hope that this Tablellulah will inspire the same spirit of freedom, fun, and universal love as her waterborne sister.
Don't forget to scan her QR code to get linked to Tallulah Jams!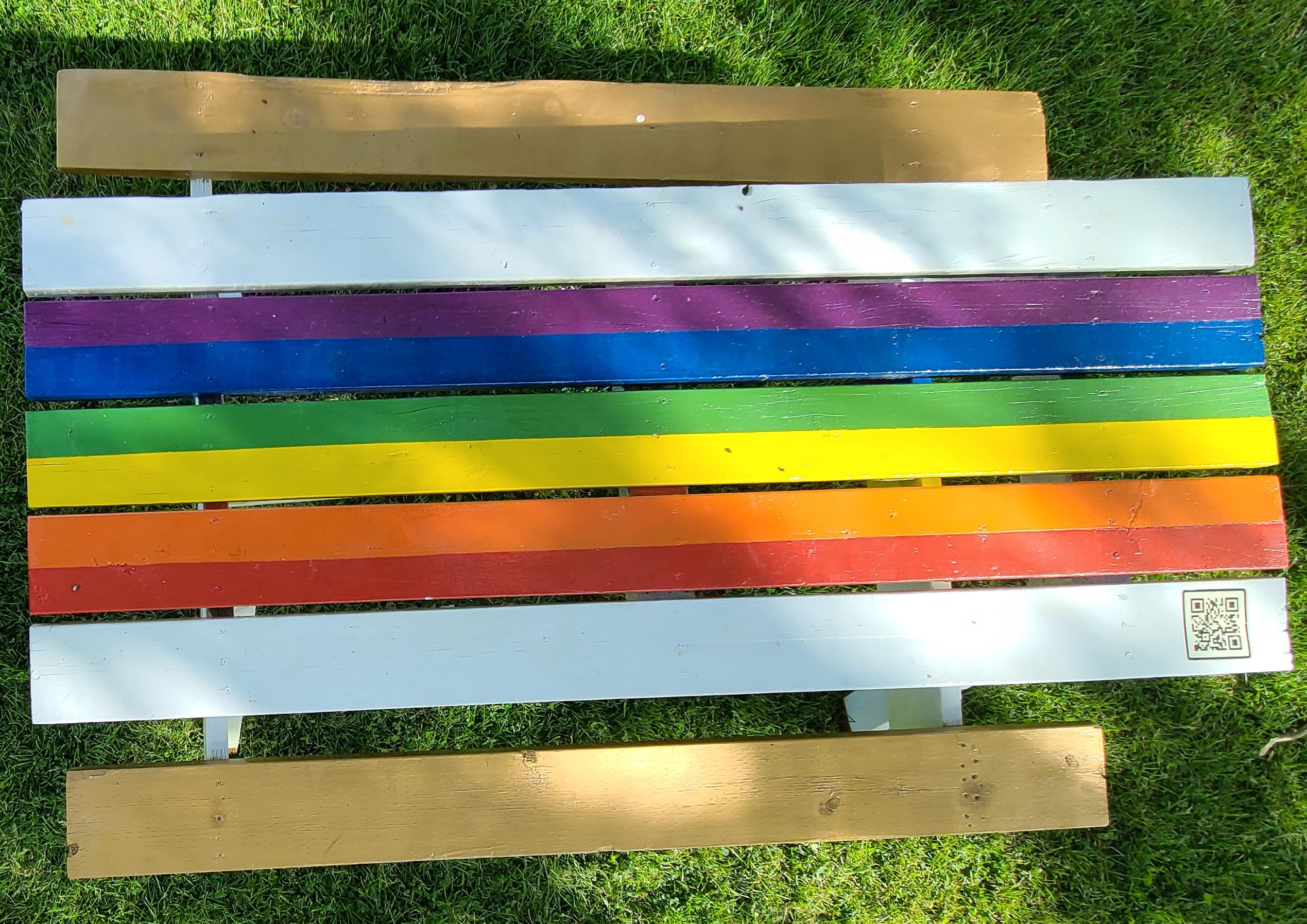 Artist: Bonnie Richardson
My sick grandchildren in London, who contracted COVID-19, were instrumental in helping me choose the table design. I told them they had to get well so they could come and sit on their table. And thank goodness, they have recovered and were able to come to St. Marys the weekend the tables were placed out!
A self-taught watercolour artist with 30 years experience, you can learn more about Bonnie's art here.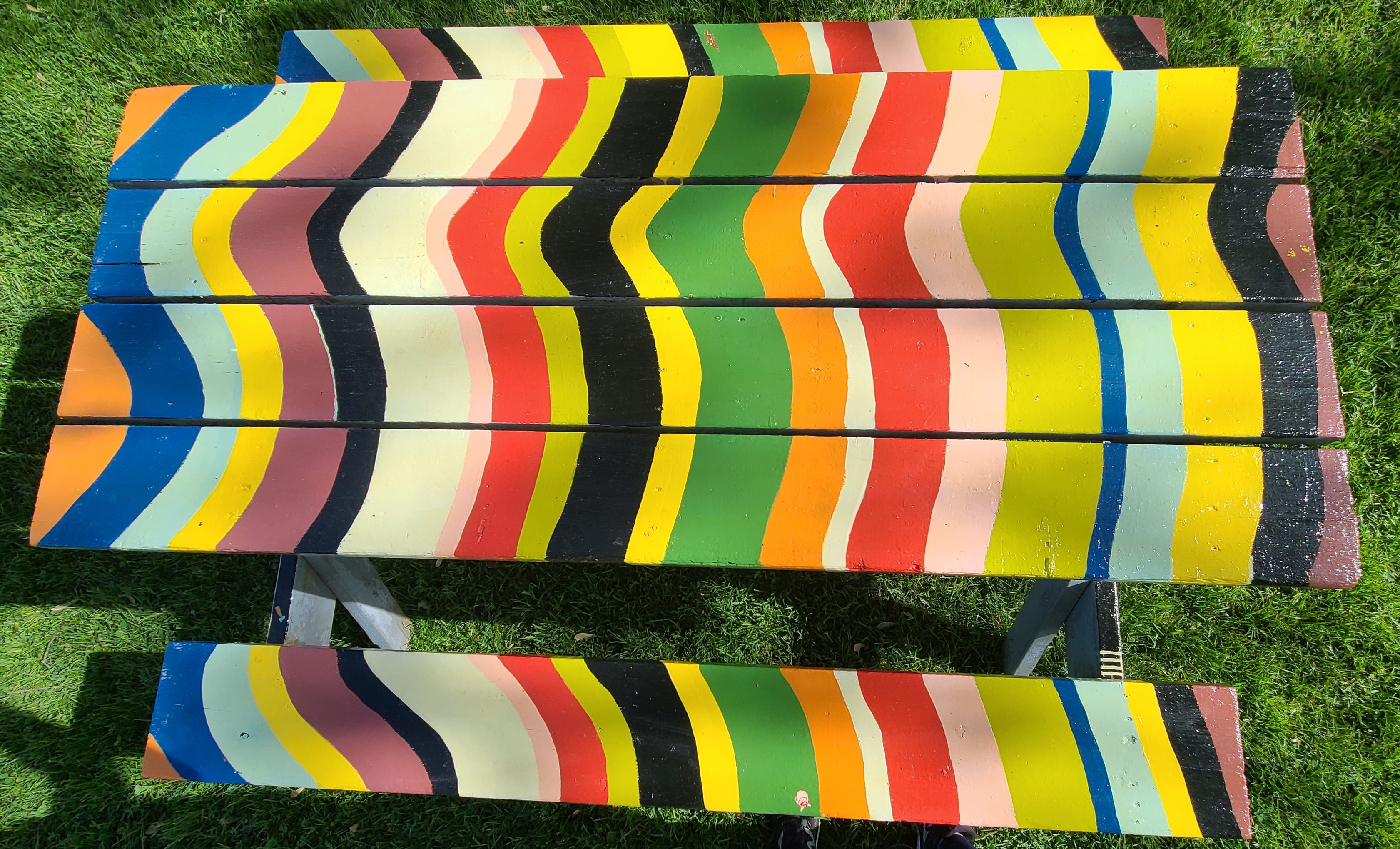 Quarry picnic area/Riverview Walkway tables
Artist: Sherri McMichael
I really enjoyed working on this project to encourage everyone to support local restaurants and take advantage of eating outdoors. We are surrounded by the beauty of St. Marys parks and waterways. My painted picnic table depicts the best parts of St. Marys and its beauty we can enjoy throughout the year. My work shows the transportation of spring, summer and fall and how we can take advantage of the parks and surroundings in every season.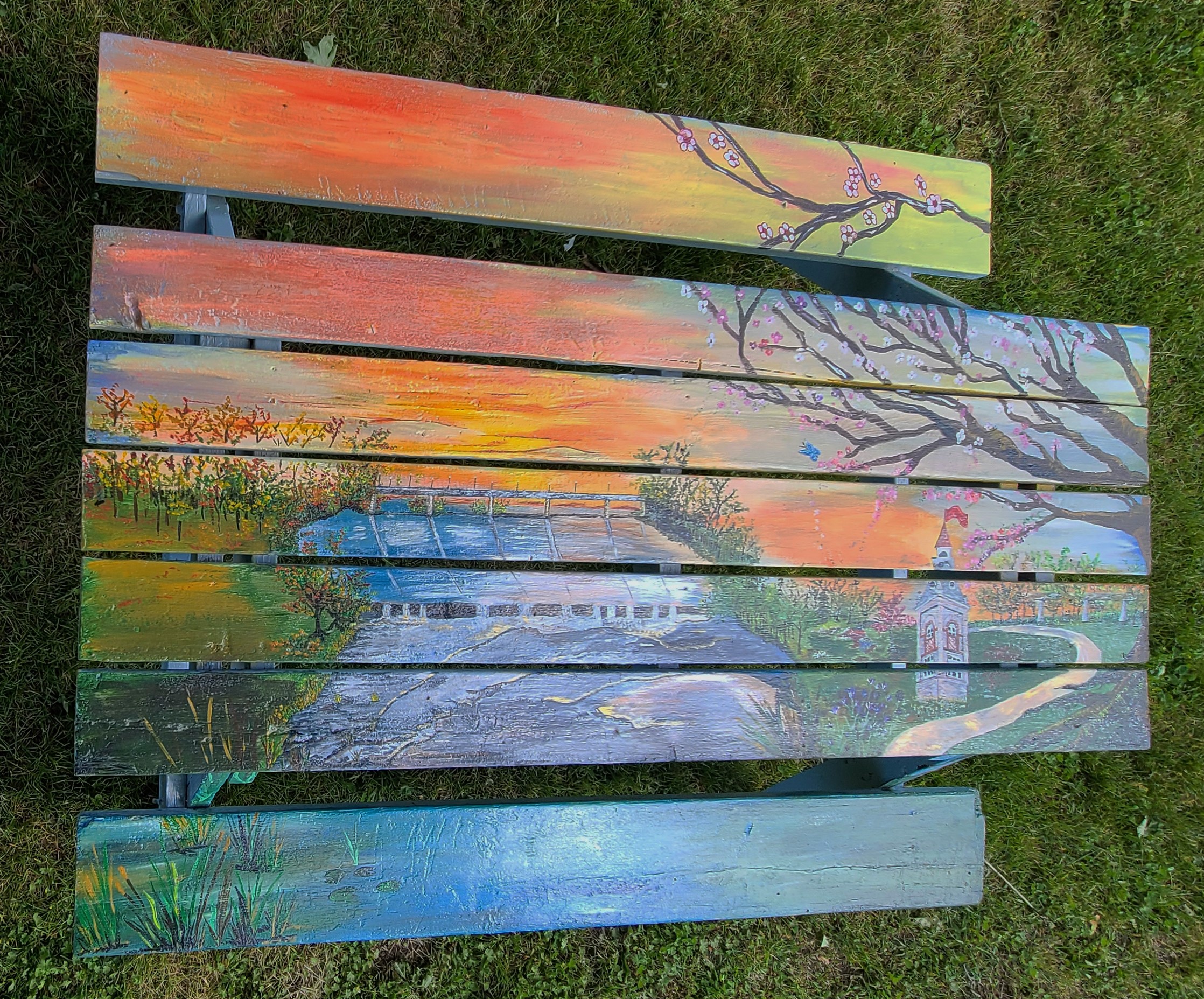 Artist: Missy Little
This has been a strange year for all! To add a little entertainment and smiles, I introduced Gunther to the world in September! He's a mischievous little monkey on my Facebook page that keeps everyone in suspense as to what he is going to get into next. When I was chosen to paint a table for the town, he was the obvious theme!

I would love to be tagged in pictures of you using the picnic table and I hope everyone enjoys "Having Lunch On Gunther!"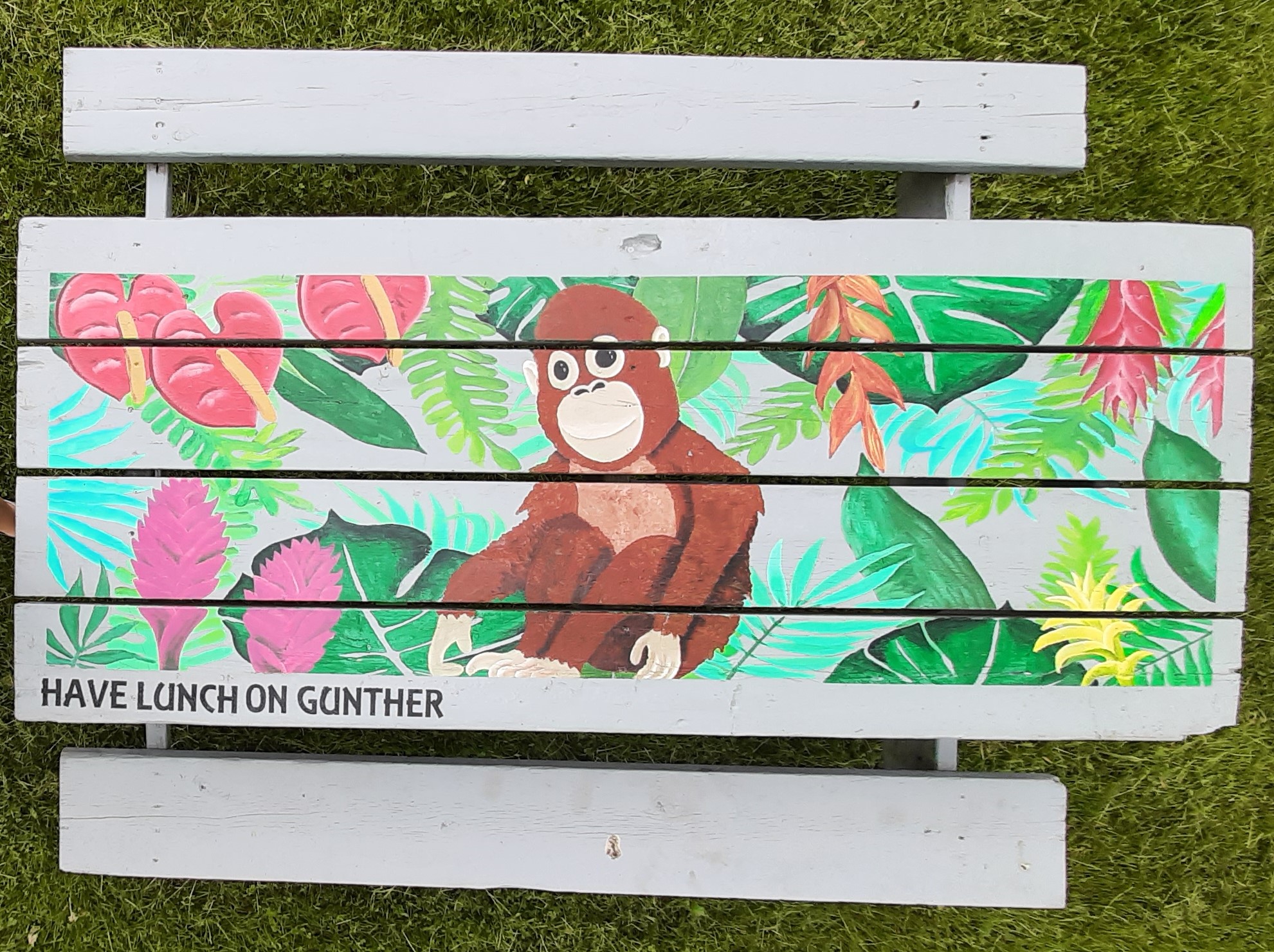 Town Hall/Cenotaph Park tables
Artist: Rebecca Van Massenhoven
I am a hobby artist. I began painting at the age of eleven and continue to find it a great passion. I chose to paint the old water tower in part due to its iconic nature, representing the town. I also chose it because, from my parent's backyard, you can always see it. For that reason, the water tower will always remind me of the house I grew up in.
I am currently studying Political Science at Brock University, entering my final year this September. Several months ago I returned to St. Marys, where I have come to appreciate the town and painting this bench has helped foster in me feelings of pride and connection. I hope this small contribution gives back to the town I once again call home.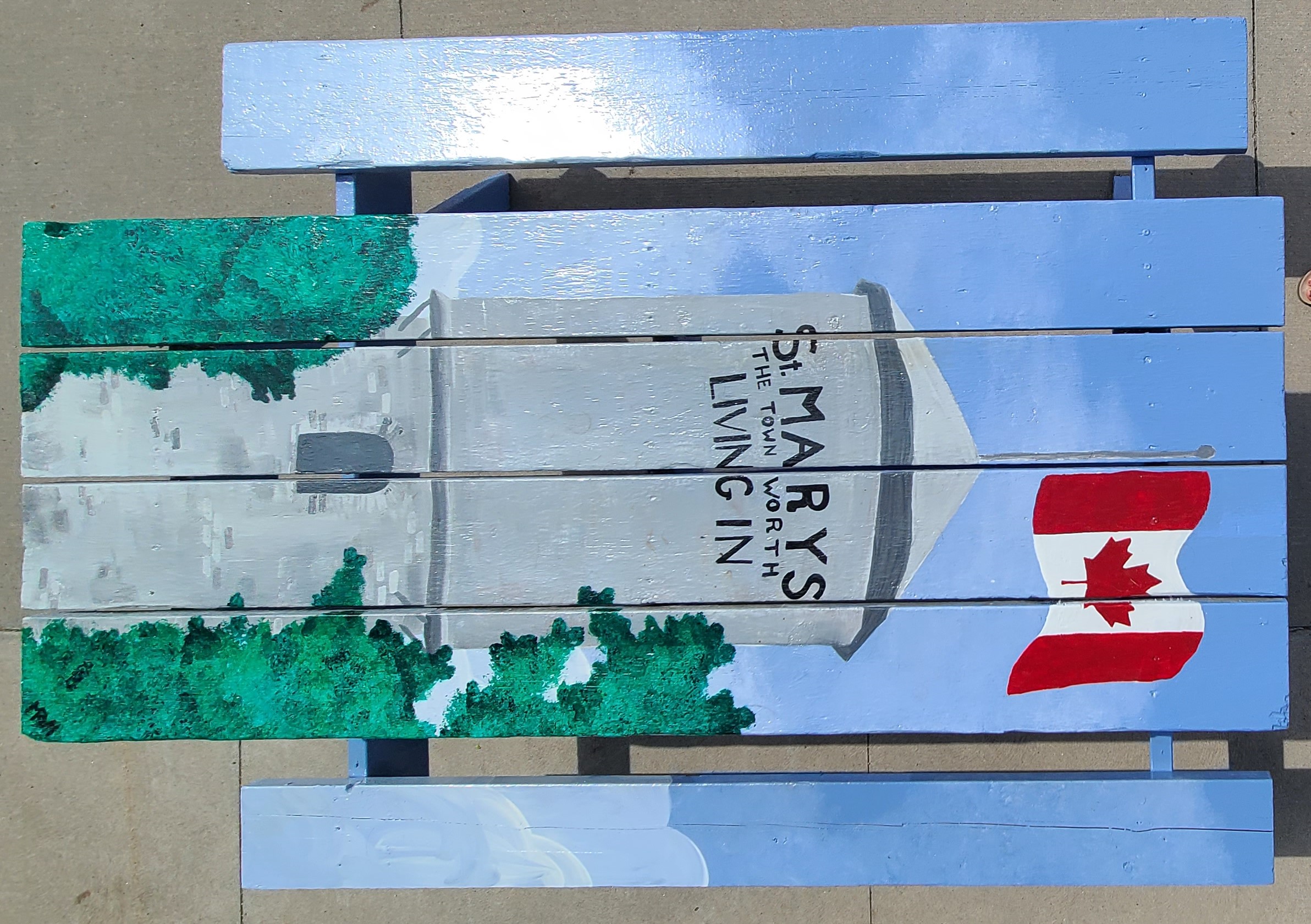 Artists: Bruce and Nancy White, Judy Hamilton, Su Missauba, and Maggie Jorna
Our table "Bone Appetit" has been painted by a group of cemetery dog walkers to celebrate all of the dog walkers of St. Marys. It is true that we often know the names of the other dogs long before we get to know the names of the humans to which they are attached. To that end, we used assorted dog paws as our design motif. Some of the dog paw prints come from our own dogs, but there is one particular print that is very special to us. We included a print from the dog Roy, in memory of his owner Leigh Anne Youse, a regular cemetery dog walker, who passed away in April.
The picnic table has been set with four place settings, and each plate has a dog paw print in the middle. In the very centre of the table is a beautiful "flower" arrangement, made up of assorted dog paw prints. The sides of the table have also been decorated with dog paws. The dominant colours of red and white are meant to symbolize Canada.
We hope people enjoy using this table. We certainly had a great time decorating it!