Canada Day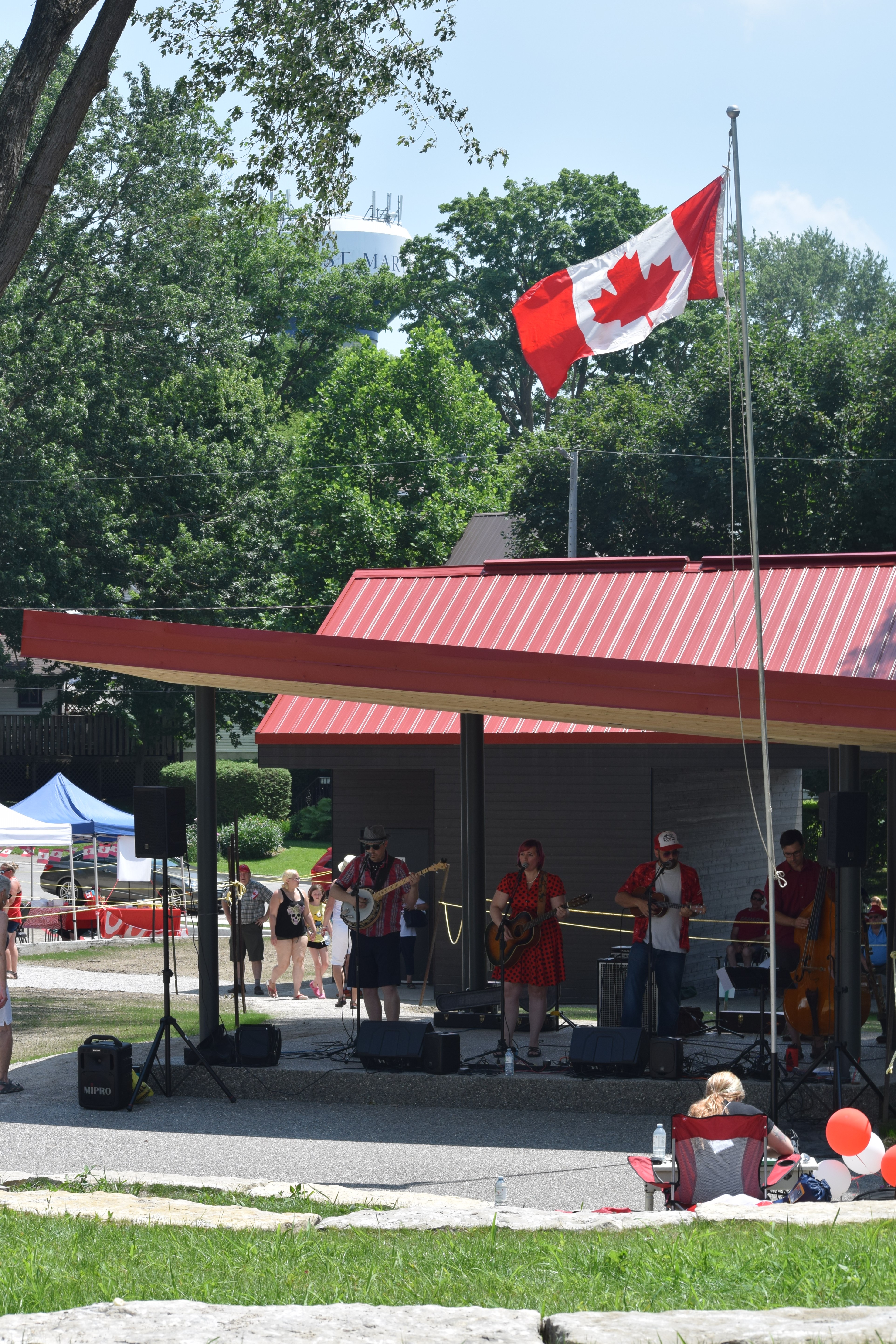 Canada turns 152 years old this year and there's no better place to party on Monday, July 1 than at Cadzow Park in St. Marys! Plan your patriotic party with the handy schedule below!
Event
Time
Description
Friendship Centre
fitness class

10 a.m.

Begin your celebration on the right foot by joining in this free, all-ages class!

Thames Vista Pancake Breakfast and butter tart sale

11 a.m. to
1 p.m.

(while supplies last)

Dig into a delicious pancake breakfast courtesy of Thames Vista Farms. The breakfast is by-donation to the St. Marys Museum. Please bring your reusable dishware and utensils to cut down on waste.

In lieu of a third-annual baking contest, past contestants are donating batches of butter tarts to sell as a fundraiser for the St. Marys Museum.

Musical performance by the Halftones
11 a.m. to noon
Enjoy classics from the Swing and Big Band era at the Lions Performing Arts Stage.
Food and drink offerings
11 a.m. to
4 p.m.
The Canadian Baseball Hall of Fame and Museum will host its fundraising barbecue, and Living Rock Church will have its popular popcorn available for free. The Sunset Shack will also offer a fun selection of street eats for purchase. Stay hydrated all day long by bringing your refillable containers to the free OCWA water buggy.
Activities for all ages
11 a.m. to
4 p.m.

Enjoy activities for all ages throughout the park, including face painting and tattoos, and fun with the St. Marys Public Library and the Cadzow Village residents' group. Pack your swimsuit as the Rotary splash pad will be open all day; as will be the St. Marys Museum for checking out all exhibits or fashioning a children's craft.

Canada Day Parade
11 a.m.
(depart from Pyramid Centre)
The ever-growing parade departs the Pyramid Recreation Centre at 11:00 a.m. and makes its way downtown via James Street, then Queen, then arriving at Cadzow Park. The parade is free to enter; register your float by calling organizer Don Pike at 519-284-1548.
Musical performance by Paul Droog
noon to 1 p.m.
Paul brings his guitar and a selection of children's favourites to the Lions Performing Arts Stage.
Acknowledgement and Opening Ceremonies
1 p.m.
Patsy Anne Day will acknowledge our Indigenous homelands, followed by the opening ceremonies, singing of O Canada and flag-raising. The arrival of the traditional Canada Day cupcake cake, courtesy of McDonald's Independent Grocer, will immediately follow!
Musical performance by Harmony of Friends
1:30 to
2:30 p.m.
This group of friends and musicians will delight with their upbeat mix of classic pop and rock hits at the Performing Arts Stage!
Friends of the Library movie in the Park
dusk
(approximately 9 p.m.)
Return to the park with blankets for a free viewing of Dumbo, courtesy of the Friends of the Library! Appropriate for the entire family.