The Festival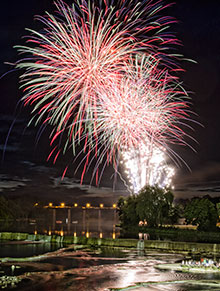 There's no shortage of fun during this year's Homecoming+Heritage! The weekend encompasses the entire community and the schedule of major activities is below.
Check back often as times are confirmed and events are added! You can also Like the Homecoming and
Town of St. Marys pages on Facebook for more information.
A convenient print version of the program will be available in a late June issue of the St. Marys Independent,
and at various locations during Homecoming weekend.
| | | |
| --- | --- | --- |
| Thursday, July 2 | | |
| Event | Time | Location and details |
| St. Marys Juggernauts Soccer Game | 8 p.m. | DCVI Soccer Fields |
Friday, July 3
Event
Time
Location and details
Parade
6 p.m.
Departs Pyramid Centre on James; enters downtown via Queen, turns south on Wedllington to end at Canadian Tire.
Opening Ceremonies, street dance and food trucks
7:30 p.m. to midnight
Enjoy live music, fun food and great music in the heart of downtown! Stage will be in the intersection of Queen and Water streets for audiences to gather on either street.
"Those born in 1960"
8 p.m. to 1 a.m.
Meet and greet at the St. Marys Legion (66 Church St. N.). Cash bar.
Rotary Fireworks
dusk
(approximately 10 p.m.)
The fabulous Rotary Fireworks are a summertime tradition for good reason! This 10-minute show blasts off from Milt Dunnell Field.
Saturday, July 4
Event
Time
Location and details
Firefighters' Homecoming Bacon Bacon on a Bun
9 to 11 a.m.
Outdoors behind DCVI cafeteria; Volunteer Firefighters will cook up a delicious start to your day. By donation.
St. Marys Farmers' Market
8 a.m.; extended hours TBC
Enjoy the best our local producers have to offer, with special hours and events just for Homecoming+Heritage! Find the market at the Jones Street parking lot downtown, between Water and Wellington streets.
DCVI All Years' Reunion
9 a.m. to noon
Reconnect and reminisce with former classmates!
Lions' Car Show and
Ford Galaxie Show
9 a.m.
to
1 p.m.
Take a drive down memory lane with these two popular shows! The Lions' show takes place at Milt Dunnell Field; hop on the shuttle to visit the Ford Galaxy Show at St. Marys Ford (555 Queen Street West) to enjoy both shows!
Come Home to Downtown St. Marys
9 a.m.
to
5 p.m.
Enjoy special promotions, incredible service and social-media worthy smiles in our historic downtown!
Heritage Festival
at Cadzow Park
10 a.m.
to
4 p.m.
Everyone's favourite free family festival comes to Cadzow! Vendors, food, live entertainment will be nestled under the tall trees at this historic park.
Appleland Train
9 a.m.
to 3:30 p.m.
Hitch a free ride with Engineer Ernie to travel between downtown, Cadzow Park and Milt Dunnell Field! The route is a loop of Wellington, Station, Water and Church streets, with multiple stops TBC.
Heritage bus and walking tours
10 a.m.
to 4 p.m.
Learn more about our history on foot or by air conditioned bus! Sign up required at the Town Hall information tent, where both tours begin. Walking tours take place in the downtown; times TBC. Bus tours are approximately 45 minutes and take in a variety of sites throughout St. Marys.
Class of '69 and Friends
2 to 6 p.m.
Licensed meet and greet at the Legion (66 Church St. N.). Cash bar.
Homecoming Dance
8 p.m. to
1 a.m.
Only 1,000 tickets available for this incredible night when Homecoming takes over the Pyramid Recreation Centre! Big Jon and the Honkin' Swans will open for Darcy John at this licensed event. Advance tickets available online on May 1. Murphy Bus Lines has sponsored a shuttle for everyone to safely come home for the night.
| | | |
| --- | --- | --- |
| Sunday, July 5 | | |
| Event | Time | Location and details |
| Free morning fitness | TBC | Trestle Fitness will start your Sunday with fitness in the fresh air of Cadzow Park! |
| Non-denominational service | 1 p.m. | Give thanks for our community, our friends and our family at this non-denominal service at the Cadzow Park amplitheatre. |
| Closing Ceremonies and the Front Porch Show | 2 p.m. | Close out the weekend with a new St. Marys tradition: the live-streamed Front Porch Show! Learn about our community via informative interviews and laugh at the cast and crew's antics. Bring your lawn chair to the Cadzow Park amplitheatre! |