Restaurants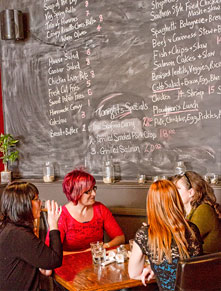 From local favorites to fine dining, St. Marys has a range of restaurants and cafés to suit every occasion and taste.
Barista's
14 Water St. S.
519-284-4167
Organic, free-trade, fire-roasted coffee and baked goods.
Four Happy Restaurant
139 Queen St. E.
519-284-0666
Chinese food selections.
www.fourhappy.ca
Gordy's
17 Water St. S.
226-661-3444
Casual pub fare. Evenings and some lunch.
Harris Electric Eatery
159 Queen St. E.
519-914-8811
Offers the casual charm of a local pub in a heritage setting, with a creative regional dining experience.
Hearn's Ice Cream
327 Queen St. E.
519-284-2096
Seasonal hard and soft ice cream, desserts and hot food selections.
www.hearnsicecream.com
J & Js Kitchen at the St. Marys Golf & Country Club
769 Queen St. E.
519-284-3704
Bar-style menu available at breakfast, lunch & dinner (seasonal)
www.stmarysgolf.com
Jennies
83 Queen St. W.
519-284-0004
Breakfast and brunch restaurant. Dessert place.
Joe's Diner
528 Queen St. E.
226-661-7799
Breakfast, lunch and some evenings.
Kitchen Smidgen
36 Water St. S.
647-393-3821
Family-run bakery. Friday and Saturday only.
Little Caesar's
162 James St. S.
519-284-2121
Pizza, wings, and more.
www.littlecaesars.ca
O'Learys Creamery Bar & Grill
120 Parkview Drive
519-284-1110
Casual and unpretentious riverside dining. Events monthly.
Snapping Turtle Coffee Roasters
145 Queen St. E.
226-661-8000
Coffee roaster and retail store.
www.snappingturtlecoffee.com
Stacey's Pizza
118 Queen St. E.
519-284-1864
Take-out pizza.
www.staceyspizza.ca
Stonetown Coffee Company
5 Water St. S.
226-661-9000
Coffee and beverage varieties, sandwiches, soups, salads, desserts.
Subway Sandwiches & Salads
162 James St. S.
519-284-4404
Made-to-order salads & submarines with fresh vegetables, meats.
www.subway.com
Suki Lee's
124 Queen St. E.
519-284-3292
Canadian and Chinese food.
Sunset Diner
343 Queen St. W.
519-284-1040
Home-made cooking, all-day breakfast, and old-fashioned milkshakes.
www.sunsetdiner.ca
Tim Horton's
201 Queen St. E.
519-284-4555
Coffee, donut and sandwich shop.
www.timhortons.com
Towne & Country Cheese Shoppe
117 Queen St. E.
519-284-4508
Over 50 varieties of cheese, great for picnic lunches & take-out specials.
www.stmaryscheese.ca
Tropical Flavour
105 Queen St. E.
226-661-2005
Carribean food with take-out. Closed Sunday and Monday.
Westover Inn
300 Thomas Street
519-284-2977
Award-winning regional cuisine in a beautiful setting.
www.westoverinn.com
Wildstone Bar & Grill at Stone Willow Inn
940 Queen St. E.
519-284-1777
Celebration destination.
www.wildstone.ca